From its humble beginnings as a café and bike shop in Berlin, Standert is now a successful global bike brand. With the company celebrating its 10th anniversary this year, founders Max and Anna von Senger recall major milestones on the journey thus far.
While there is no shortage of options for riders looking to purchase their next great bike, Standert offers something that many other brands don't. It could be the head-turning designs, or possibly the exceptional ride quality. Maybe it's the people behind the brand, whose fun-yet- humble attitude translates to their work. To better understand why Standert is so successful today, it's necessary to step back in time with those who brought Standert bikes into existence, and how they crafted them over the last decade.
Perhaps unsurprisingly, the history of this Berlin-based brand begins in 2012 with a 29-year-old product design student thinking the world was his oyster, and his partner, who continually bailed him out from getting in over his head.
For Max von Senger, a then-student and bike messenger, cycling had immense appeal. "Cycling takes me outside and lets me experience landscapes like nothing else can," he remarks. "There's a balance between the meditative effort of a long climb and the rush of flying down the other side." He adds, "I also love the aesthetics of the machine."
It was the latter that ultimately inspired Max, while studying at the Universität der Künste, to build his first bicycle. "Back then, keirin-style, steel track frames were popular," he recalls. "The lugged construction and steep head angle geometry was the look that I loved and, of course, was super hip."
(Max's first three framesets are still riding to this day, a testament to his careful design choices and construction materials.)
Believing that other Berlin cyclists might also have an interest in his frames, Max sought out a manufacturing partner that could help make his project become reality. "From a design point of view, I wanted them to be very simplistic, puristic," he says. "They were all unicolor, 12 colors across five different sizes, and inspired in part by Pantone."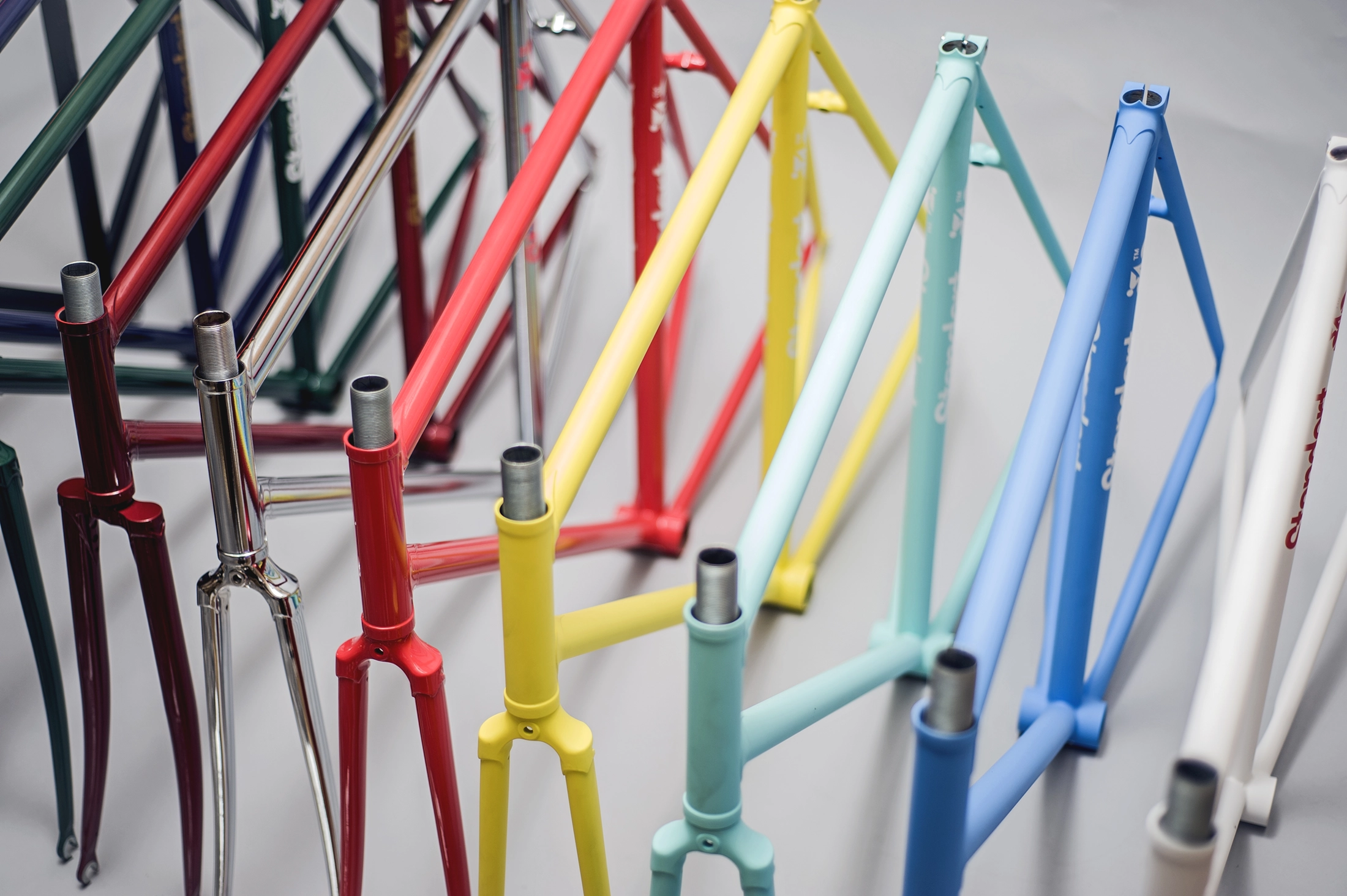 Presumably, like most 20-something designers living in Berlin, he was also inspired by culture, fashion, sneakers, and streetwear.
Deciding on a name for the brand came from common slang within Max's circle of friends. "'Standert' was something we said all the time, for everything," he explains. "We used it as a way to say 'of course' or 'why even ask?' Especially with that pronunciation of '-ert' at the end."
With nearly all the pieces in place, Standert's branding still needed work. Coming to Max's aid was his partner, Anna von Senger, who introduced Max to Johannes Schroth. Schroth was a designer heavily involved in Berlin's hip-hop scene. The three joined forces for the initial branding push, with Johannes designing Standert's first logos, including the iconic Lucky Cat.
By summer 2012, Max and Anna had everything they needed to launch a cycling brand in the Hauptstadt: a vision, a café, and a small collection of steel track frames.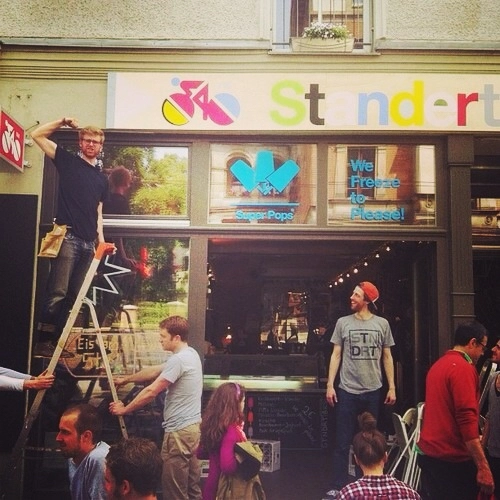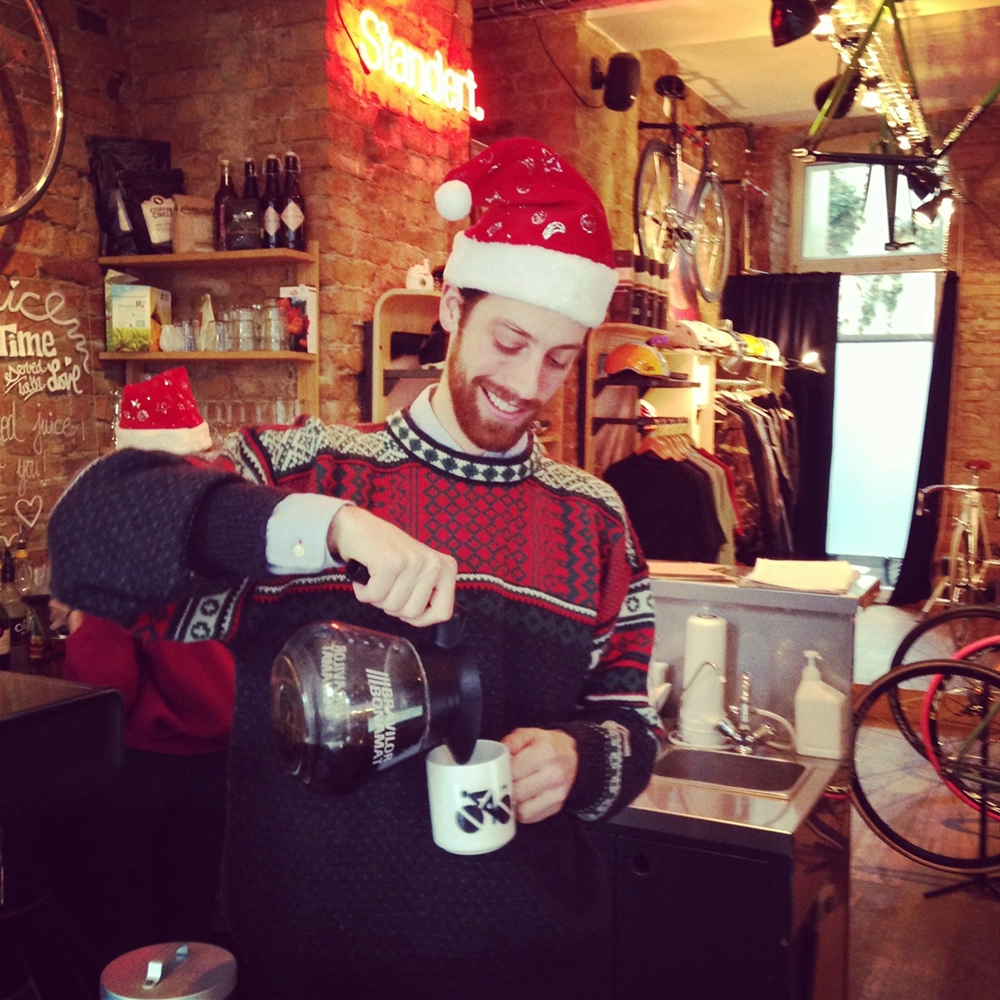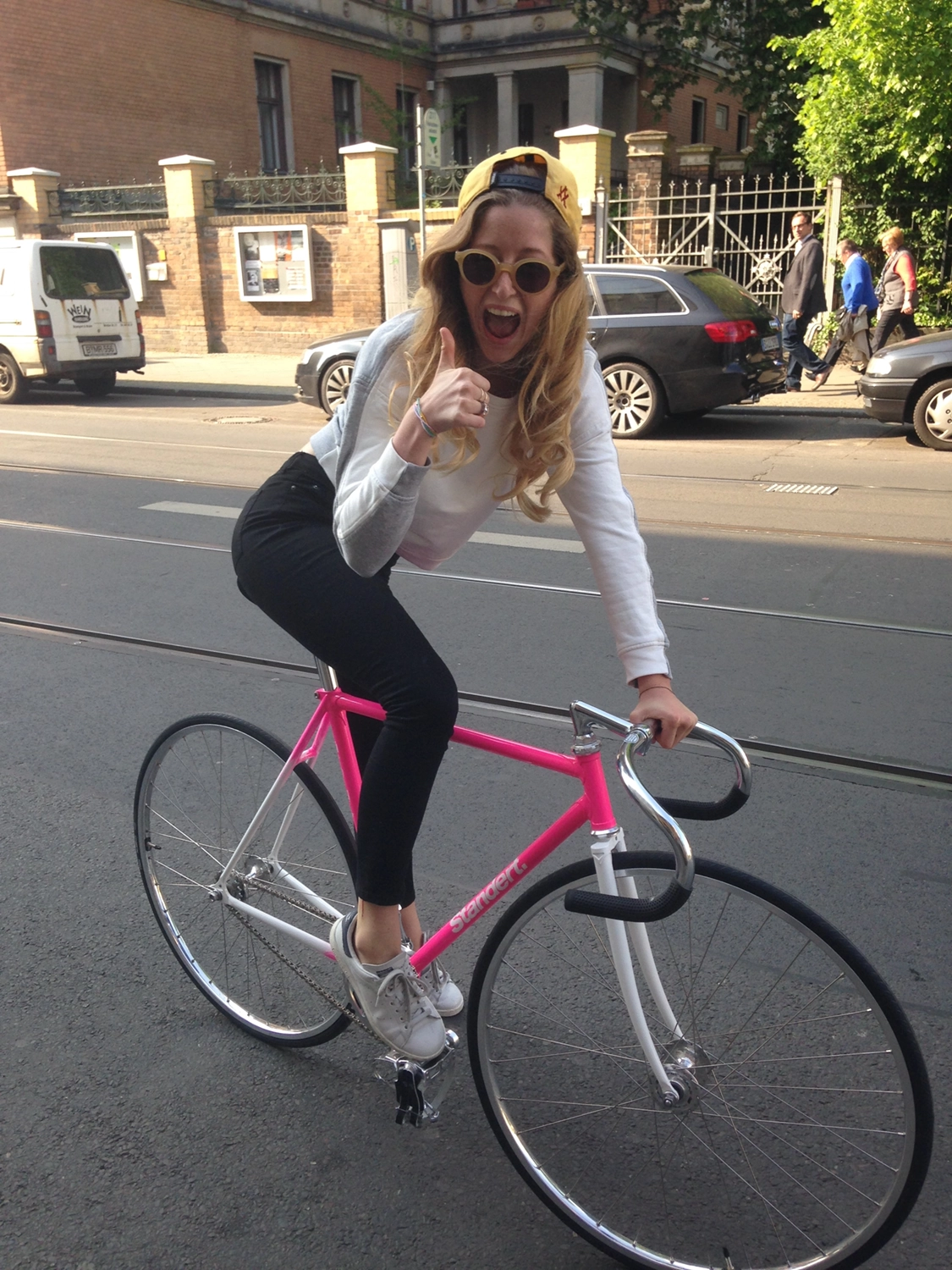 WE FREEZE TO PLEASE
On 21 July 2012, Standert opened its doors onto Invalidenstr., the Mitte location that served as both retail space and company headquarters for the next seven years. "Early on, it was all about the café," Max recalls. "Cycle cafés were a new concept, and we wanted to create a space for people to hang out."
Thinking he could do it all, the easily-excitable Max decided the café needed another hook. This time, it was a yet undiscovered sweet for Berliners: popsicles.
Sold as SuperPops, these were paddle-style frozen fruit popsicles that Max first sampled abroad in Brazil. While the German love affair with ice cream was already well established, Max saw the appeal of a new, refreshing treat without added cream and sugar. He convinced Anna to import a popsicle machine from Brazil, and Standert began selling SuperPops under the slogan: "We freeze to please."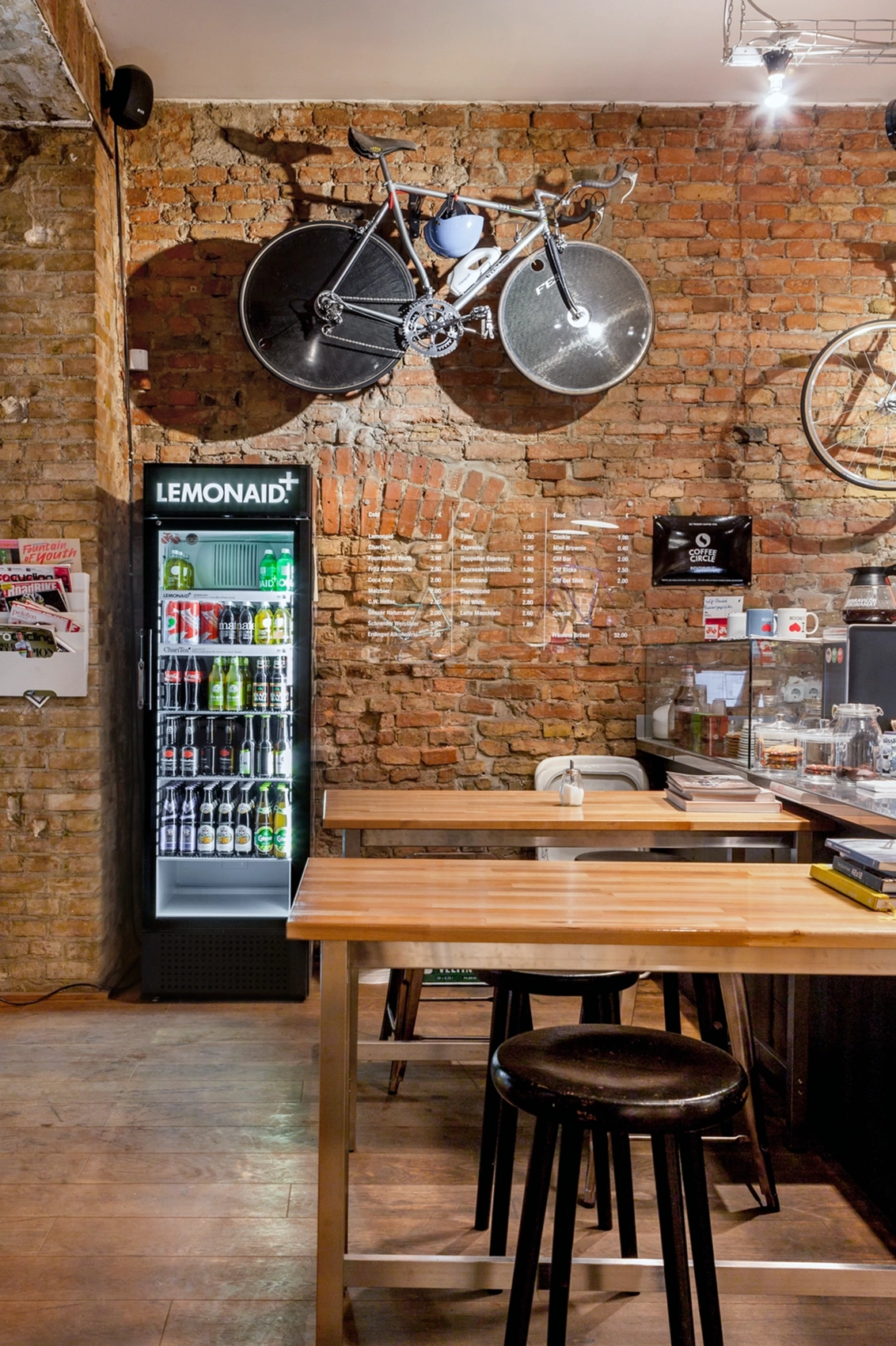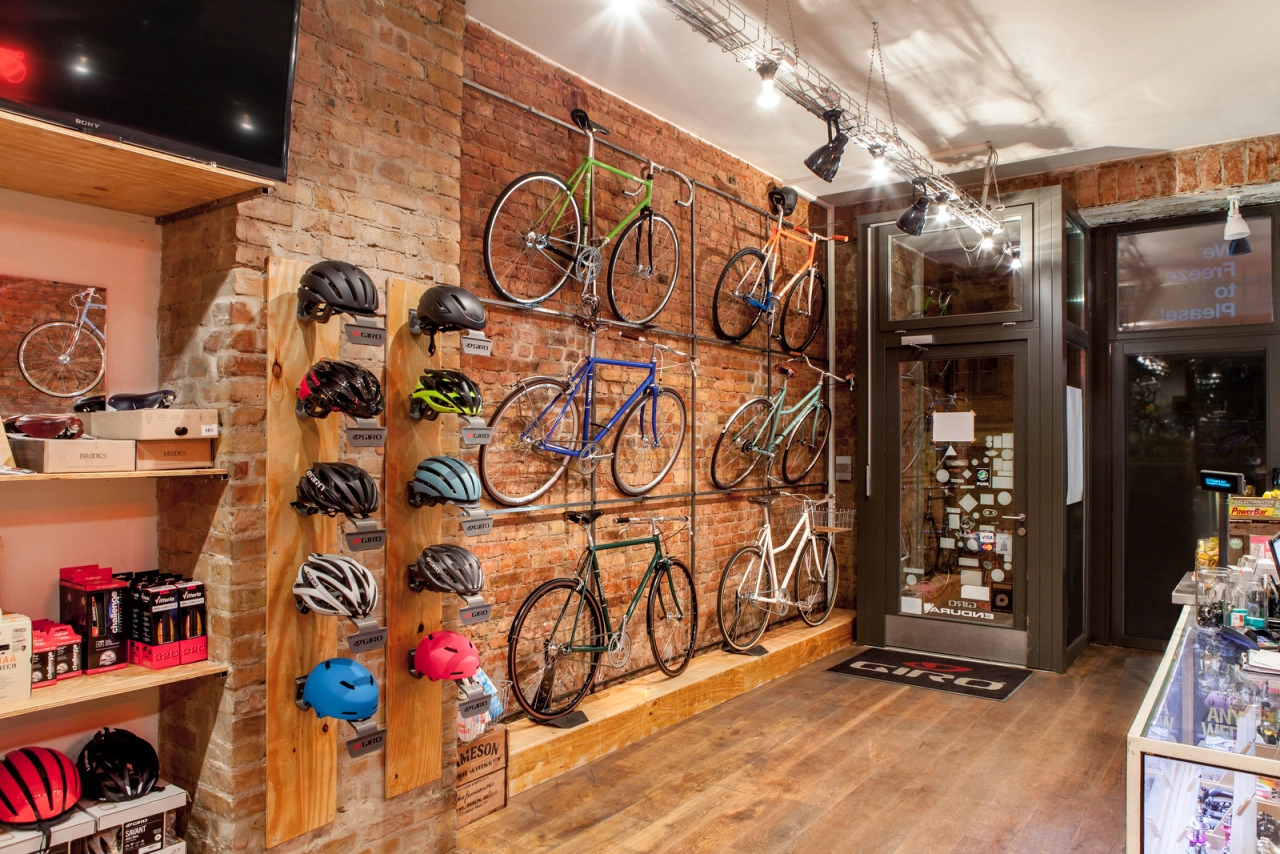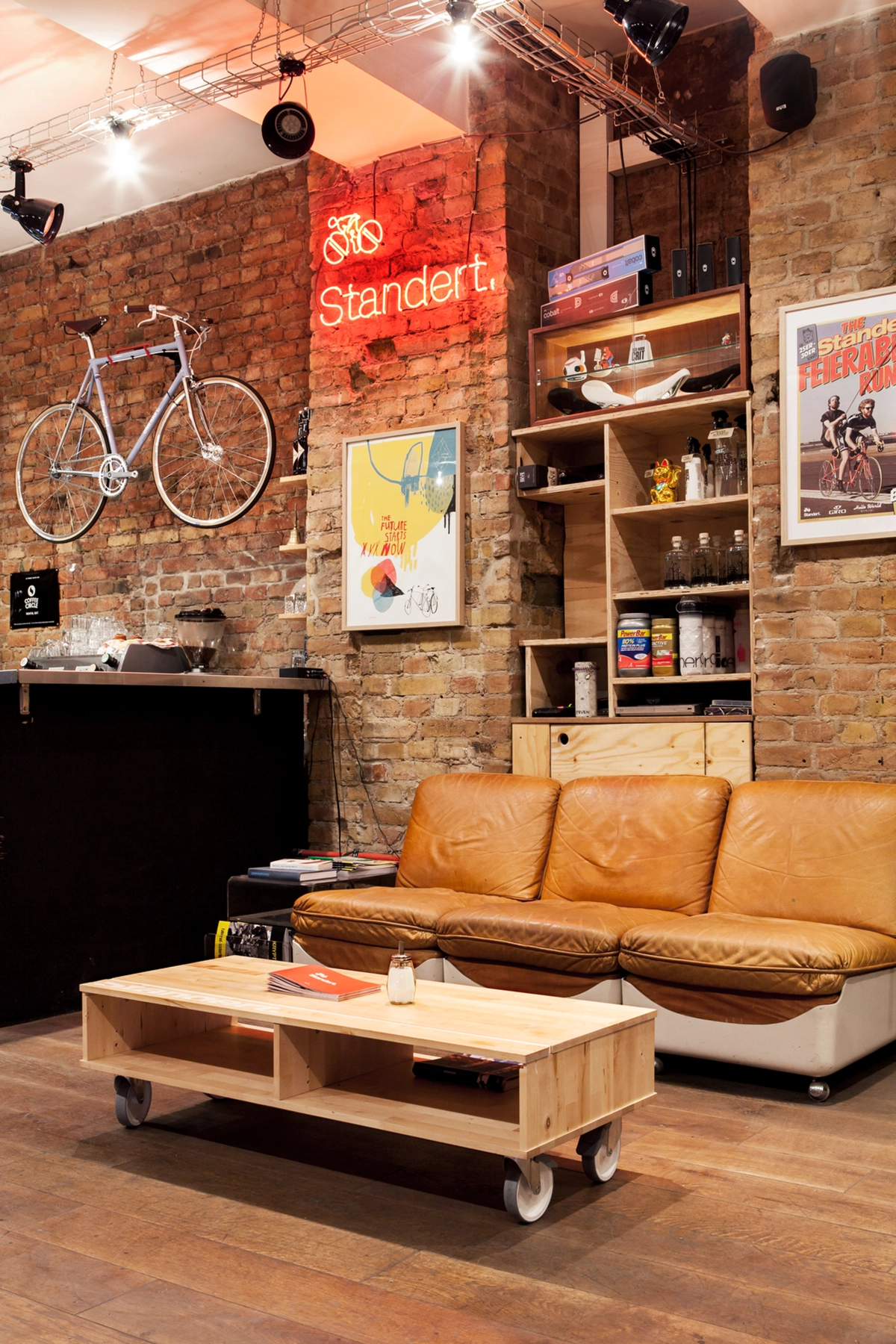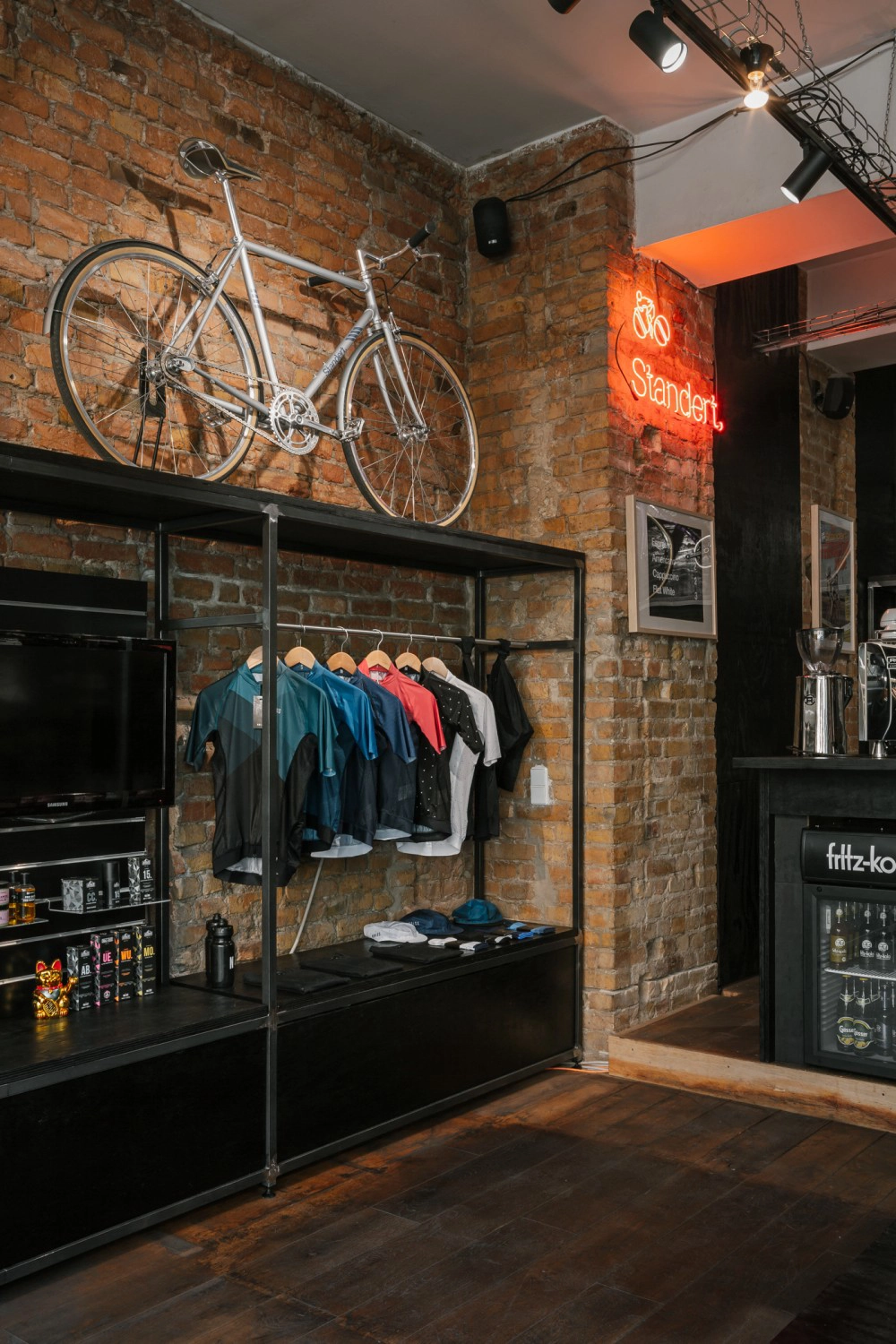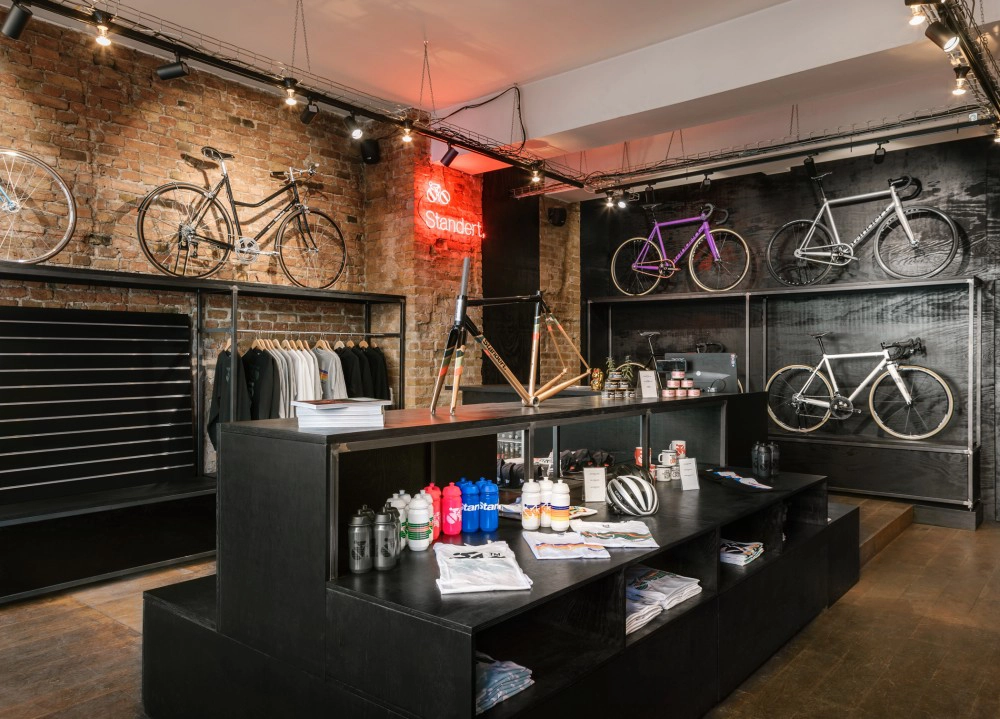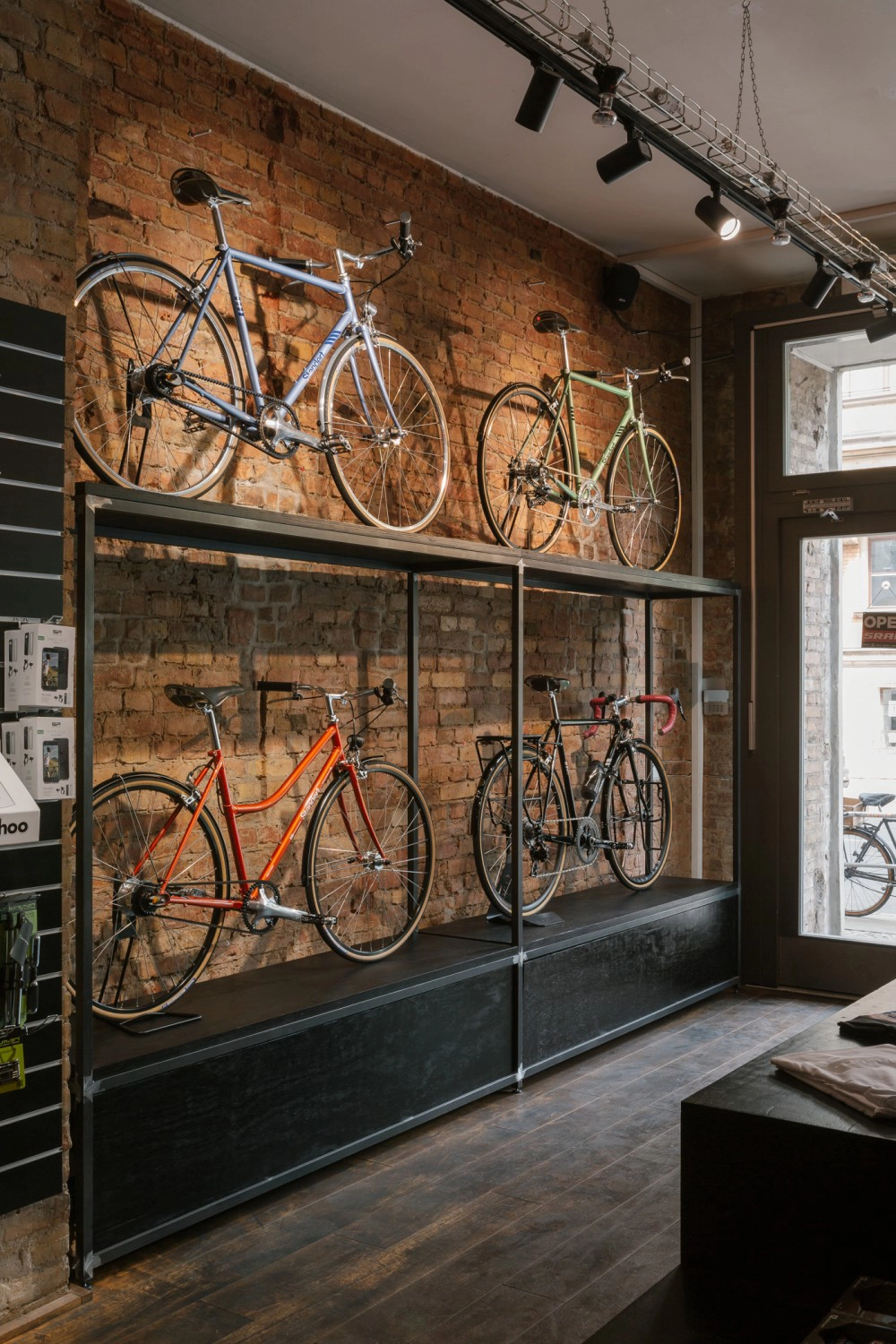 The draw of steel frames and frozen pops brought Standert café success in the early years. But it was the focus on community events that fed the brand's growing popularity within the Berlin cycling scene.
Finding its niche among the bike messenger and track cycling scene, Standert organized weekly alley cat-style races around the city. The format was simple: ride to a randomly selected train station somewhere in Berlin, stamp your card, and return to the café in the fastest possible time (best to not ask if red lights were observed). A new winner was crowned weekly, in what was known as the 'Any Given Wednesday' rides. All were welcome to participate, all bikes allowed.
This open format invited new people to the community and fostered the growth of Berlin's urban cycling scene. "It was a grassroots entry point into racing," says Benedict Herzberg, Head of Marketing at Standert, "which helped us make the eventual leap to proper road cycling."
Maintaining an inclusive cycling community has long been a challenge in Berlin. Even with cycling's popularity booming in recent years, the German capital continually struggles to provide accessible and reliable group events for road cyclists. Thankfully, Standert's attitude towards the open-invitation group ride remains strong to this day.
Evolved from the alley cat events from years past, the current Standert Feierabendrunde has justly earned its reputation as being the fastest and most fun group ride in Berlin. So much so, that it's not uncommon for a pro rider to turn up any given Thursday and test their legs against amateur and seasoned cyclists alike. Though the format has changed in order to promote better safety for participants, the "all are welcome" mentality holds fast.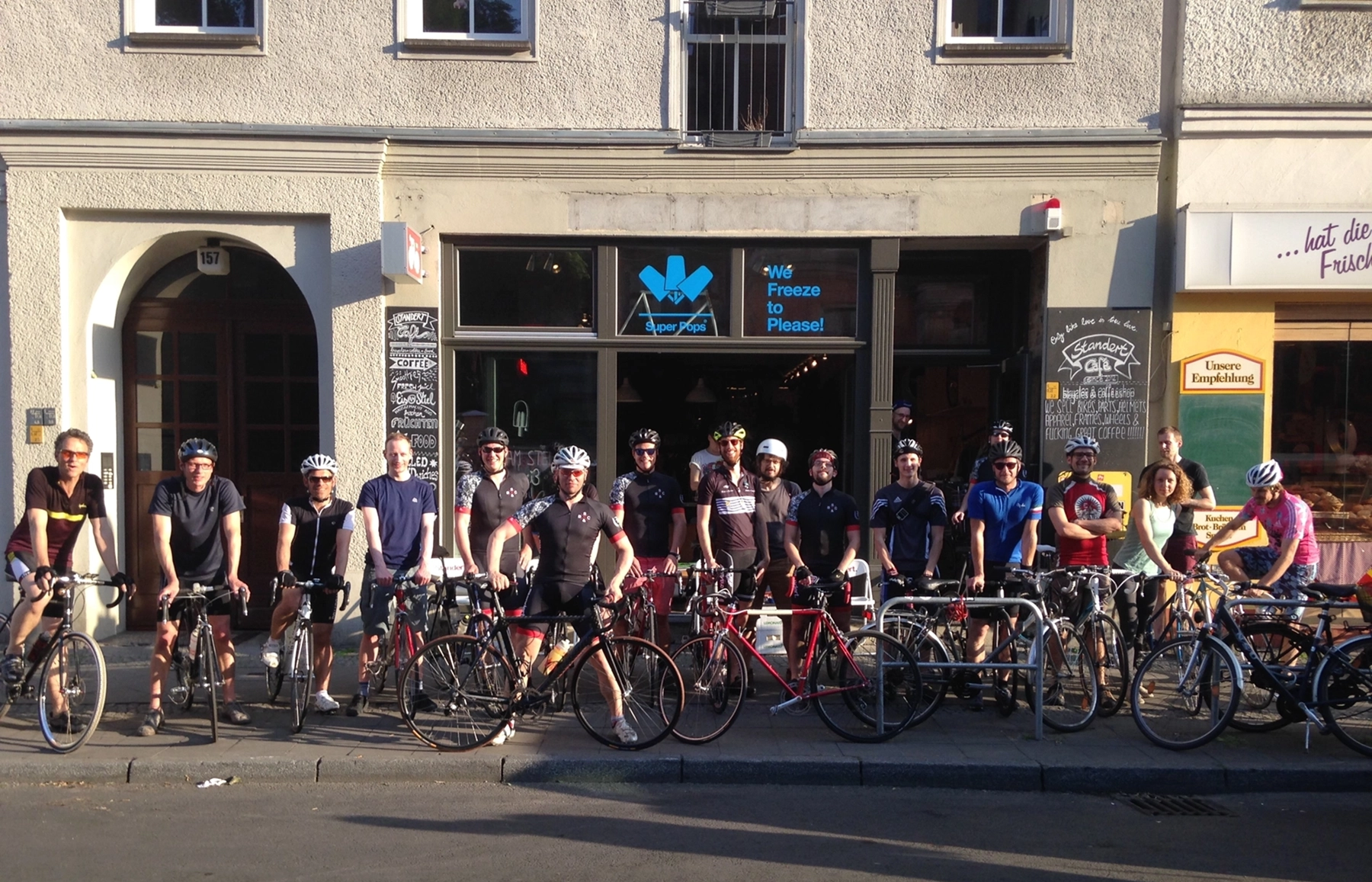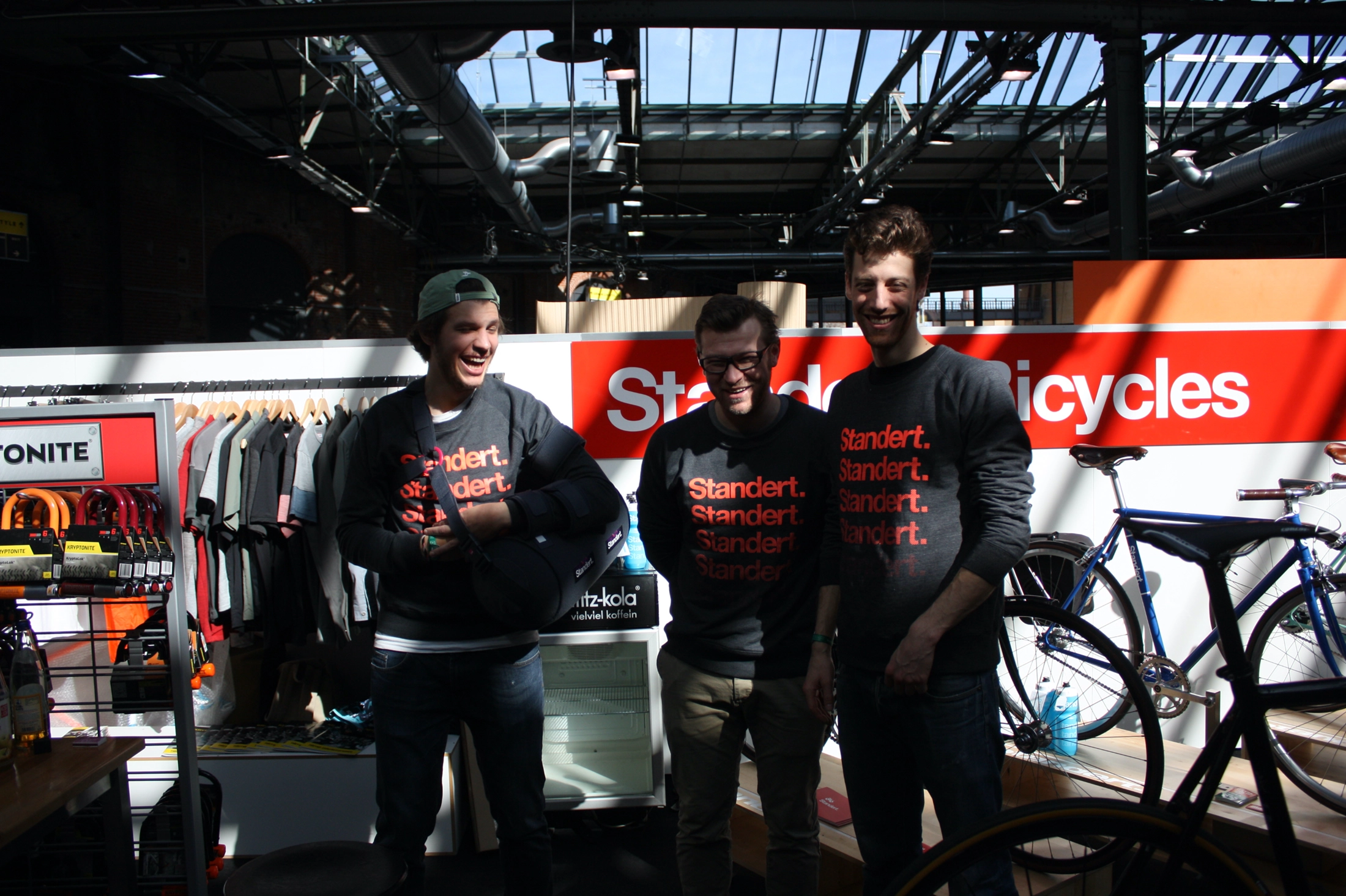 FROM ALLEYS TO CRIT CIRCUITS
As the weekly group rides intensified, the Standert crew soon realized they maxed out what their track bikes—and their knees—could handle. In pursuit of better efficiency and comfort on longer rides, Max experimented with designing classic road frames. Drawing from his experience, he came up with certain criteria: a 44mm headtube, tapered fork, and external headset cups. This design eventually became the Triebwerk, the brand's first steel road offering.
Herzberg rode the prototype model for over 25,000km. "It was a long prototype phase," he remarks. "But, that was when people really started seeing a good-looking road bike with clean lines and the name 'Standert.' on the downtube."
By showcasing the prototype Triebwerk at the weekly group rides, weekend races, and expo shows, Standert effectively marketed the steel road model with minimal financial investment. "We didn't start out with 300 Triebwerk frames and began hard selling," Herzberg claims.
The first Triebwerk production run consisted of just 25 frames. This wasn't necessarily a conscious choice—it was simply all the young brand could afford. However, this decision marked the beginning of an unintended key to Standert's marketing success: limited availability. Due to small-batch production of the Triebwerk models, demand grew exponentially.
This irresistible need continues to be one of the brand's most noted hallmarks. Standert restocks are often characterized by customers' frantic attempts to secure one of Max's highly sought-after designs, many of which are only available in limited edition colorways.
With the successful introduction of the Triebwerk into Standert's catalog, the brand expanded into other cycling disciplines, including cyclocross, touring, and commuter. As the Standert team explored more types of riding, the need for new, fit-for-purpose bikes arose. In this way, the product development process took shape organically. Standert continued to produce stunning and highly functional designs with each release, and demand steadily outpaced availability.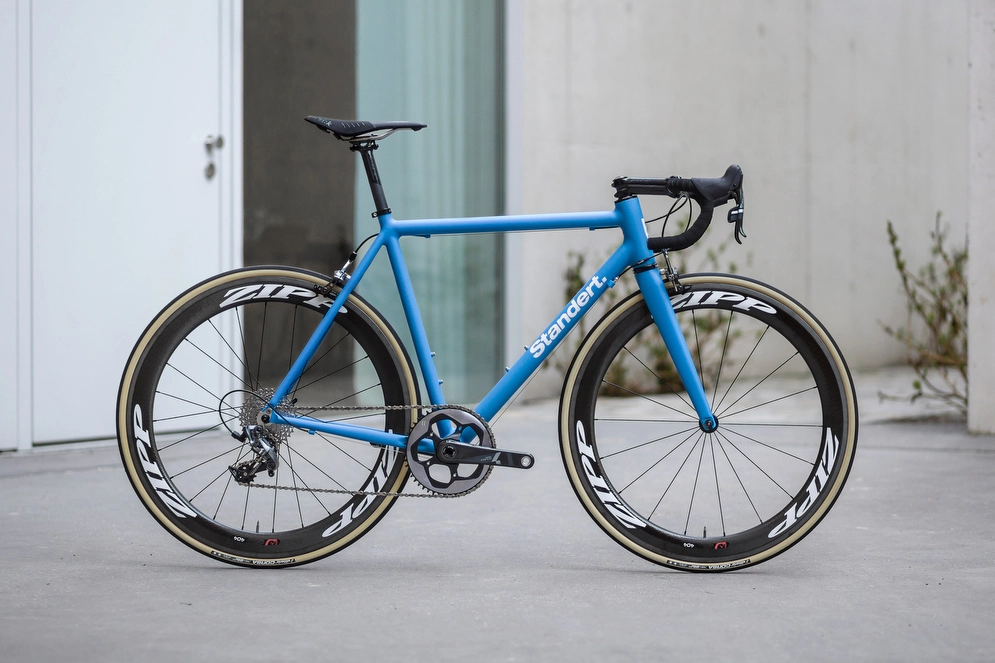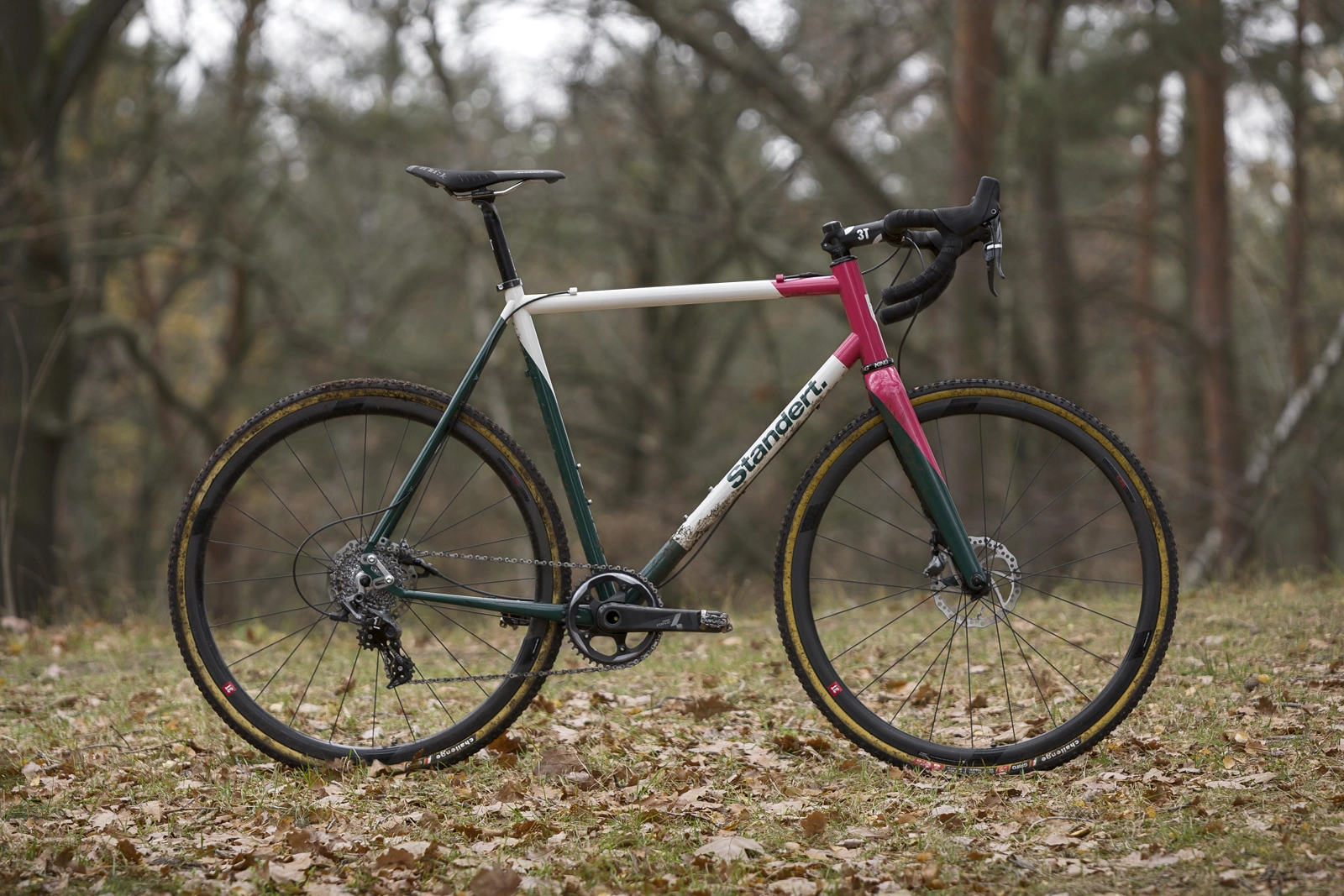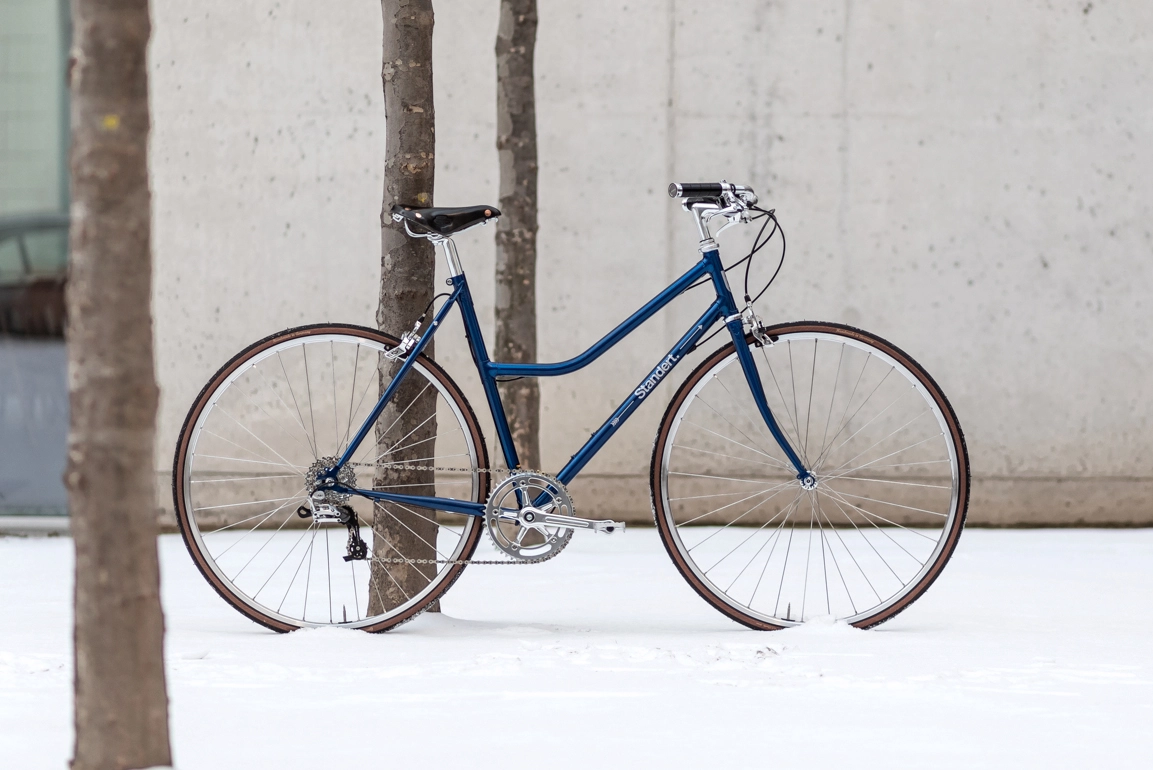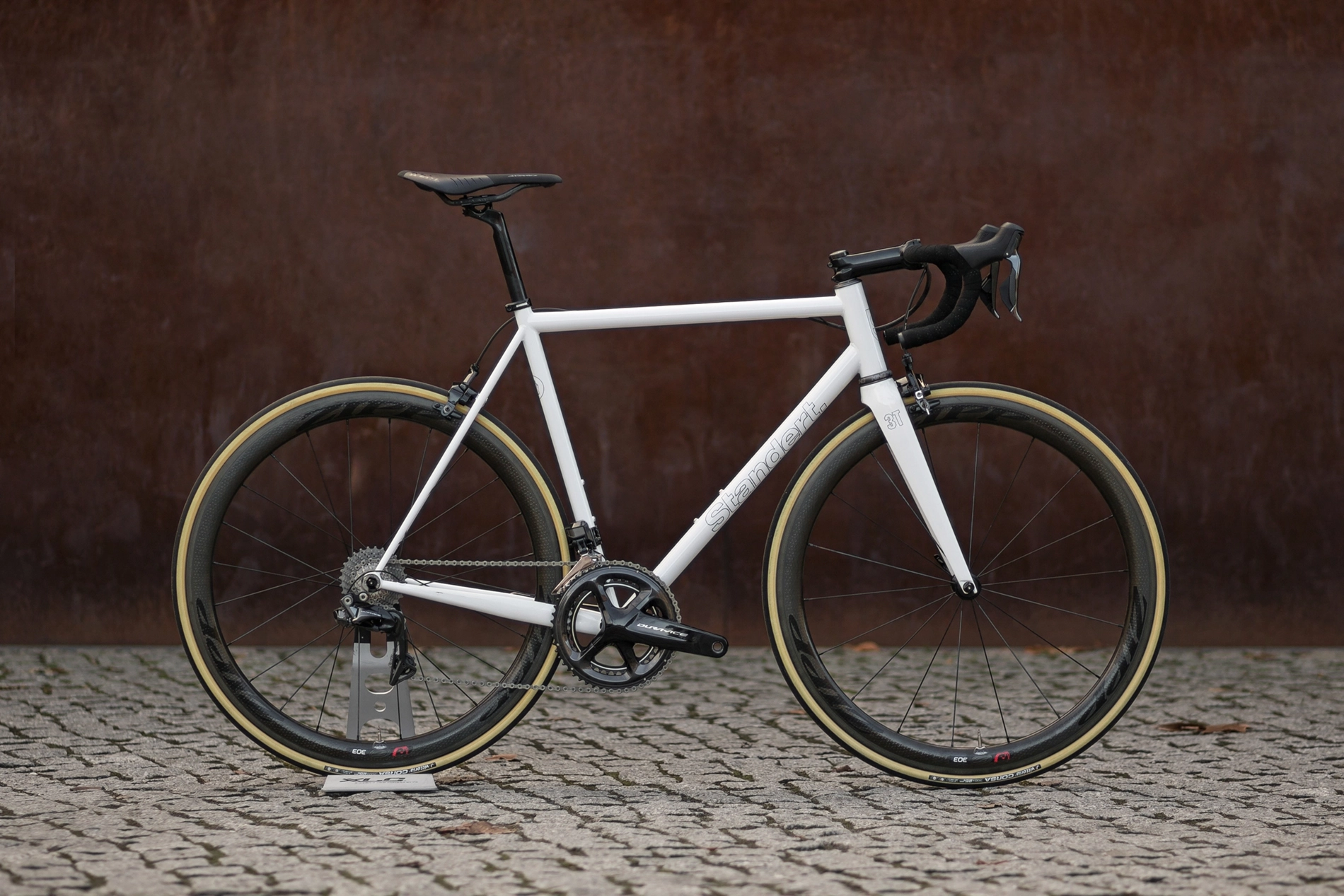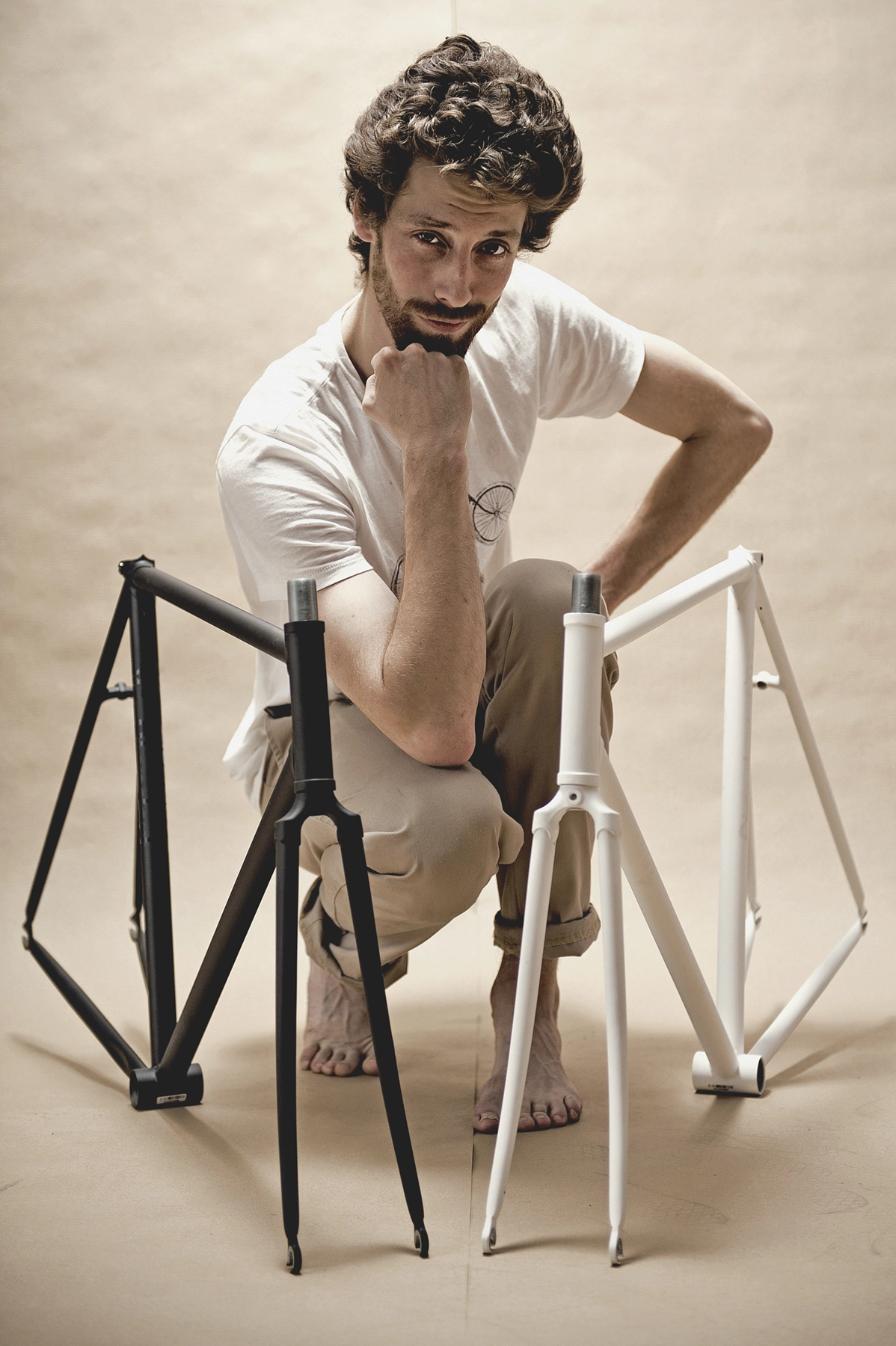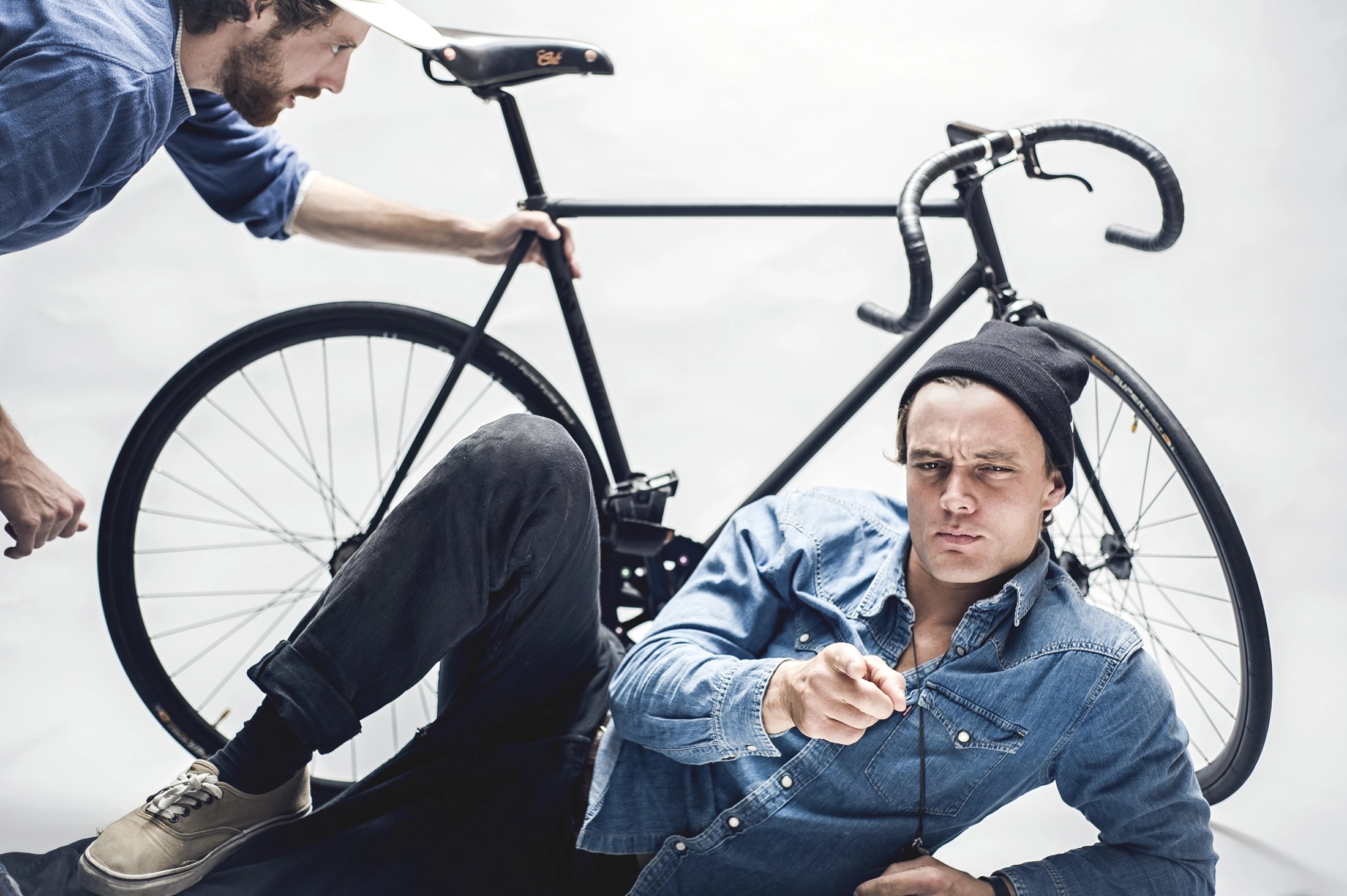 THE RISE OF THE KREISSÄGE
Today, Standert's portfolio consists of seven different models, with subcategories distinguishing rim versus disc variants, as well as the highly coveted Race Series (RS) models. Chief among the RS collection is the brand's flagship model: the Kreissäge RS.
The name Kreissäge literally translates to 'circular saw', but is symbolic of the model's intended purpose: criterium racing. When Max first designed the custom geometry and oversized headtube on the Kreissäge in 2015, lightweight crit-racing frames were still gaining traction among competitive cyclists.
At the time, urban track cycling had matured into officiated and organized events like the Red Hook criterium. This style of closed-circuit racing saw steel frames pushed to their limits, and riders wanted more speed and improved handling. This created a need for lighter and stiffer materials.
In response, Standert developed the Umlaufbahn, an iconic, out-of-space aluminum racer designed for fixed gear riding. Meanwhile, a rising interest in circuit racing led Max and Team Standert to compete at local road criteriums. The team quickly realized that the right tool for the job was still missing from the Standert lineup.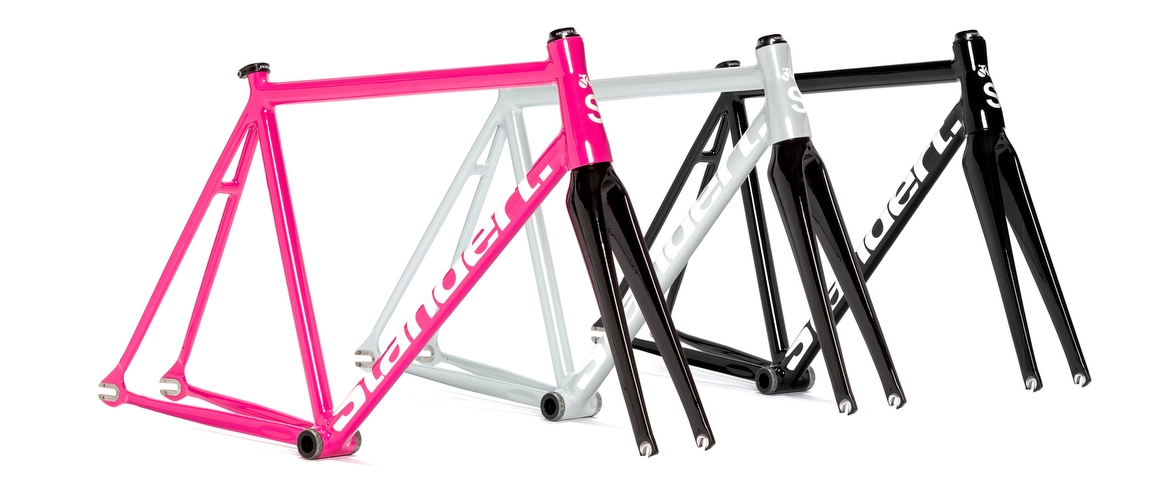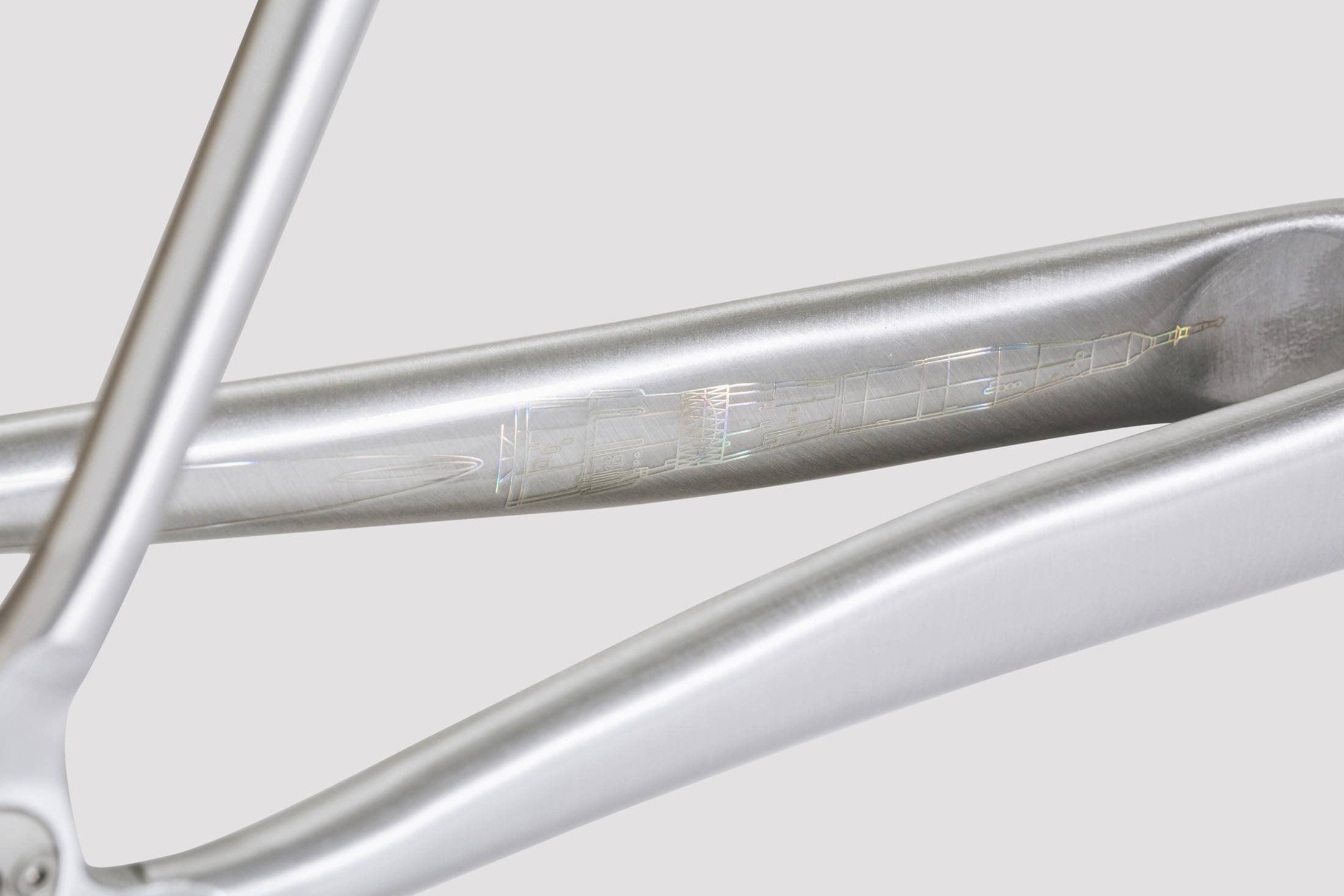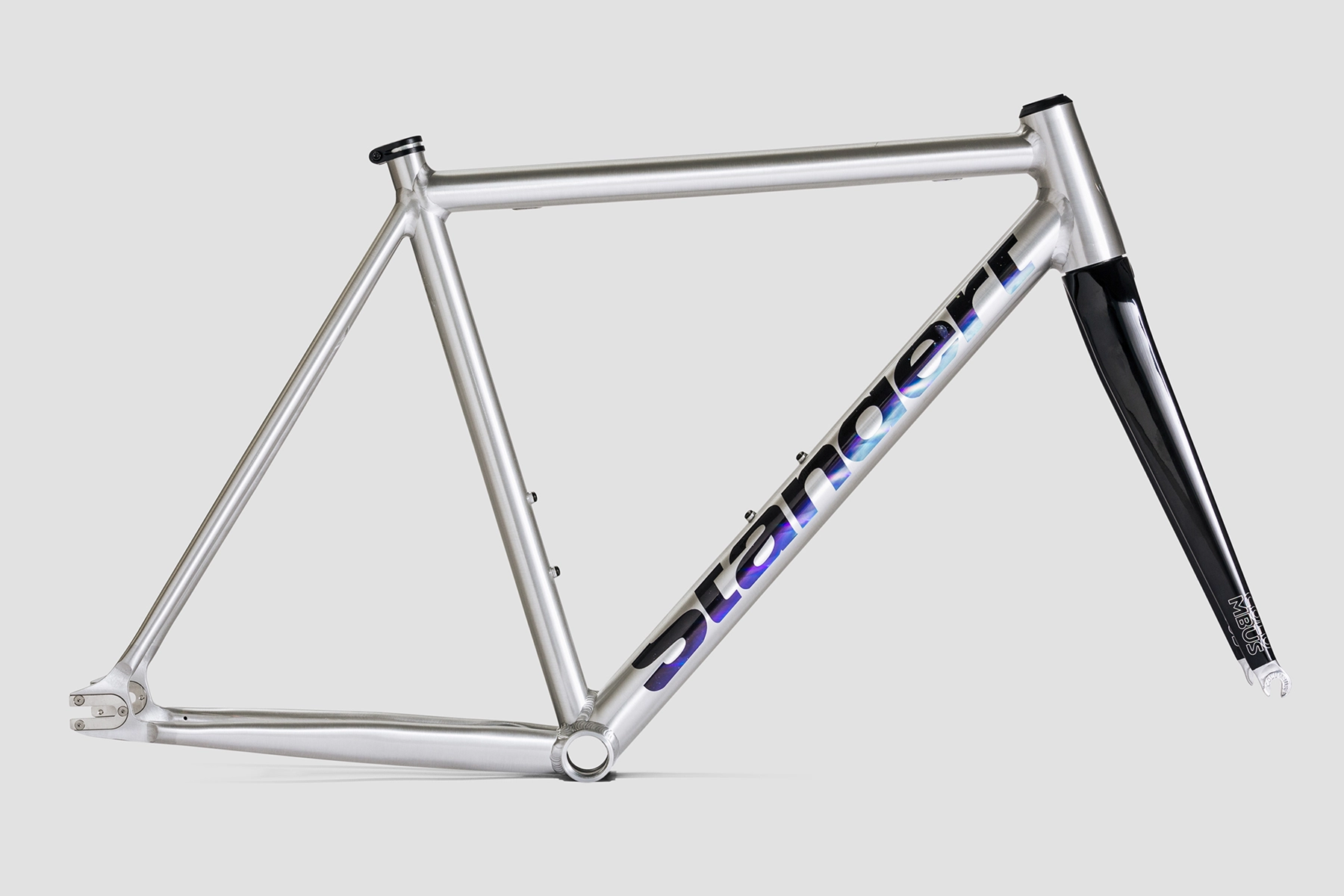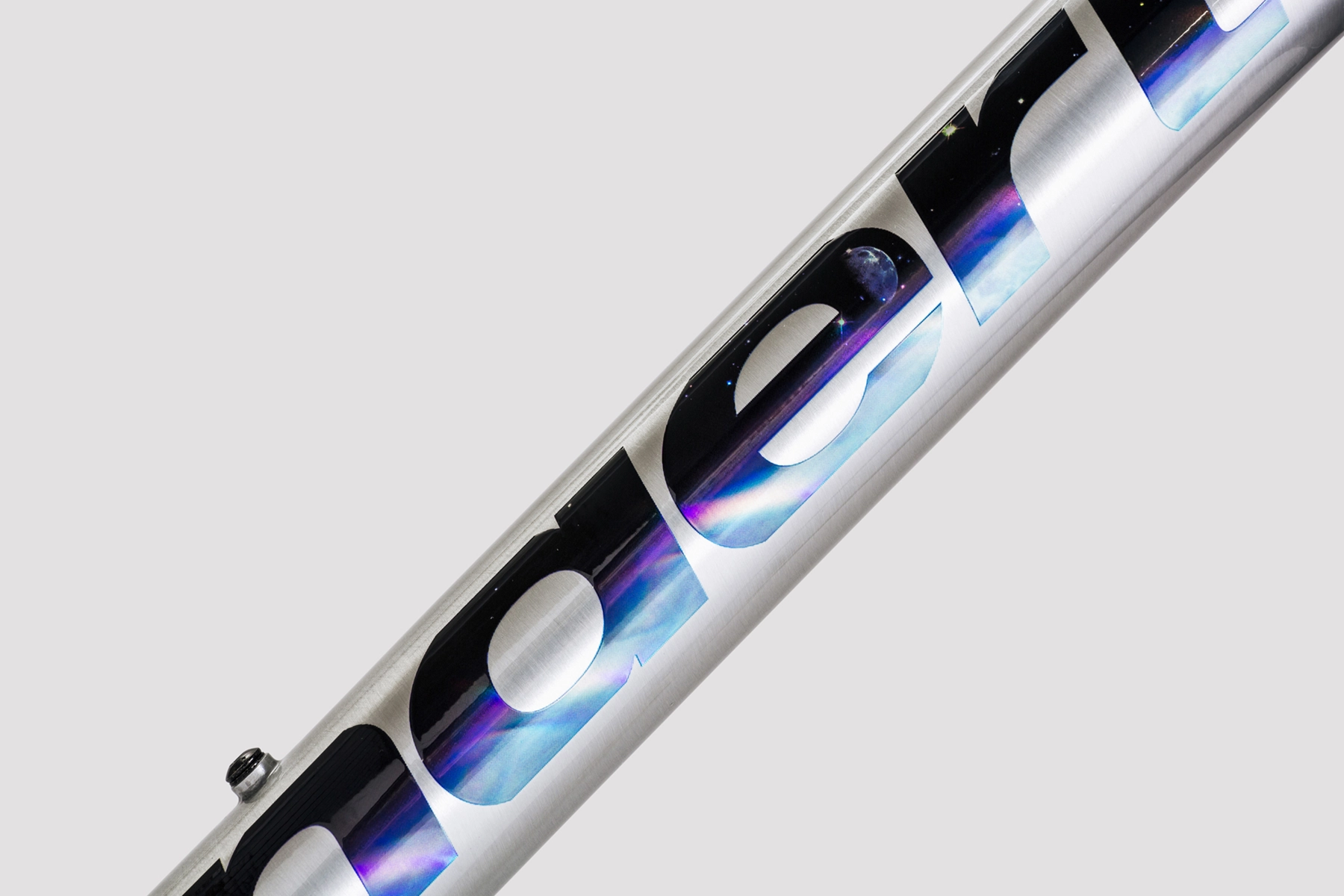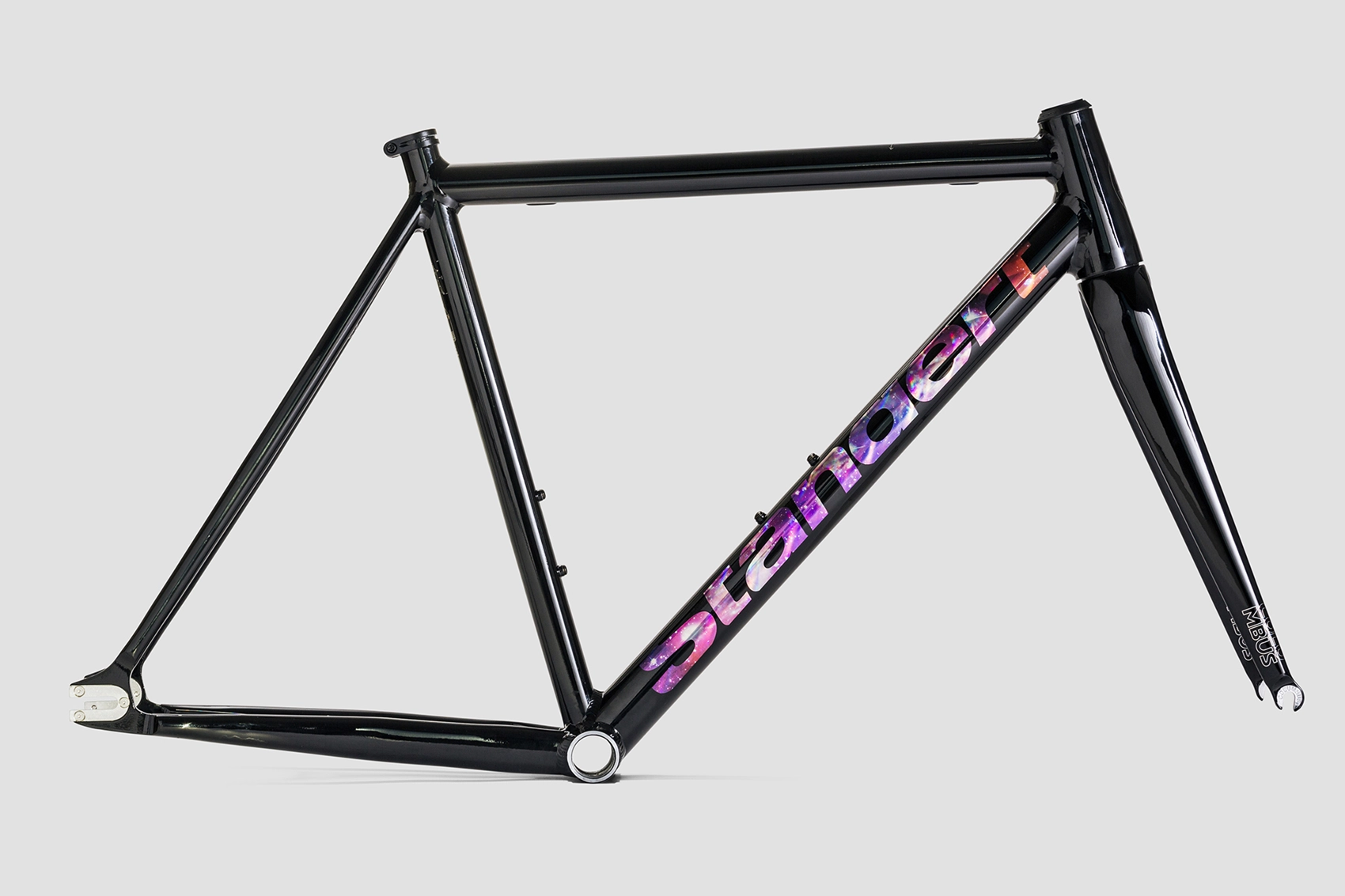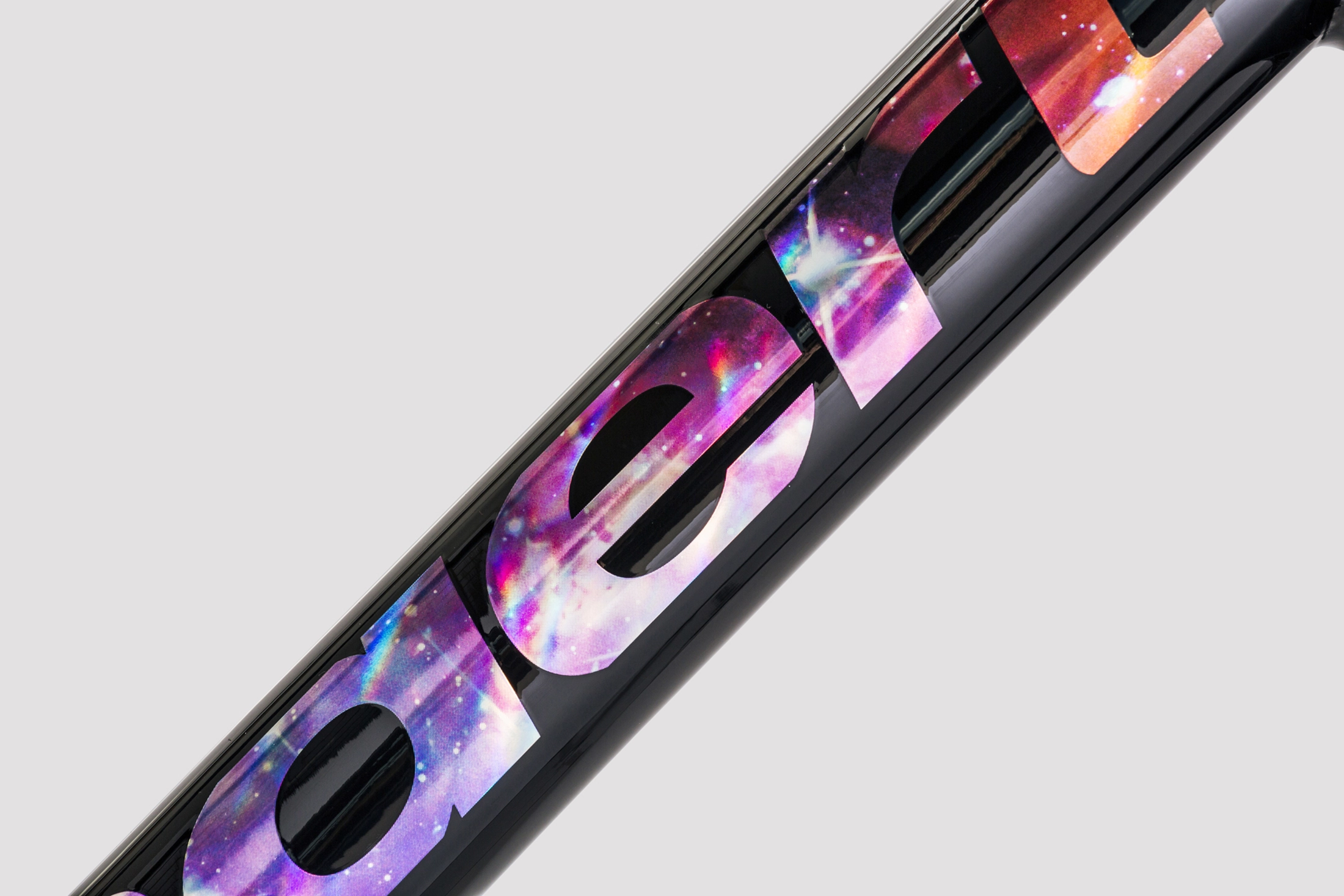 "We knew we wanted to make an original product with our own design," Max affirms. "Sram had recently introduced the first 1x Force groupset. So, we built a frame that had no possibility of mounting a front derailleur." Why not make it an option and not use it? Simple: Because the Kreissäge was meant to be a purebred crit-racing machine. "We didn't want it to be anything else," he states.
The Kreissäge was a marked turning point for the brand. For starters, it featured a custom geometry that captured the snapiness and agility of a track bike. "There wasn't any alloy bike quite like it at the time," says Max.
Years later, that sweet-spot geometry remains at the core of countless testaments to the Kreissäge's impeccable handling. Yes, there is significant toe overlap. Yes, the headtube is massive (a feature traditionally seen on mountain bike frames), but it also rails corners like a caffeinated Valentino Rossi. And then there's the Dedacciai Scandium tubing.
This exotic-sounding material, when fused with aluminum, yields a high-strength alloy that has practical applications in everything from aerospace industry components to sporting equipment. However, this alloy is exceedingly rare due to high production costs. So little Scandium is used in the modern bike industry that—in Dedacciai's 30 years manufacturing alloy tubing—the Italian company produced only enough Scandium tubing for approximately 20,000 frames.
To Max, this alloy had a certain ring to it. Not to mention the right characteristics for building a remarkably stiff and responsive frame that looked like a classic road bike. After testing multiple prototypes, moving production from Asia to Italy, and refining the geometry, Standert created a menacing, road-racing machine that was ready to challenge the Berlin crit scene. Thus, the era of the Kreissäge began.
With the advent of the Kreissäge, the once ragtag team of track cyclists now had a strong competitive edge in local races. And when they started placing on the podium, people began to take notice.
"Racing gave our bikes a proof of concept," he says. "It affirmed that we could make a performance road bike that would be taken seriously. The Kreissäge was the first frame that gave us undeniable credibility."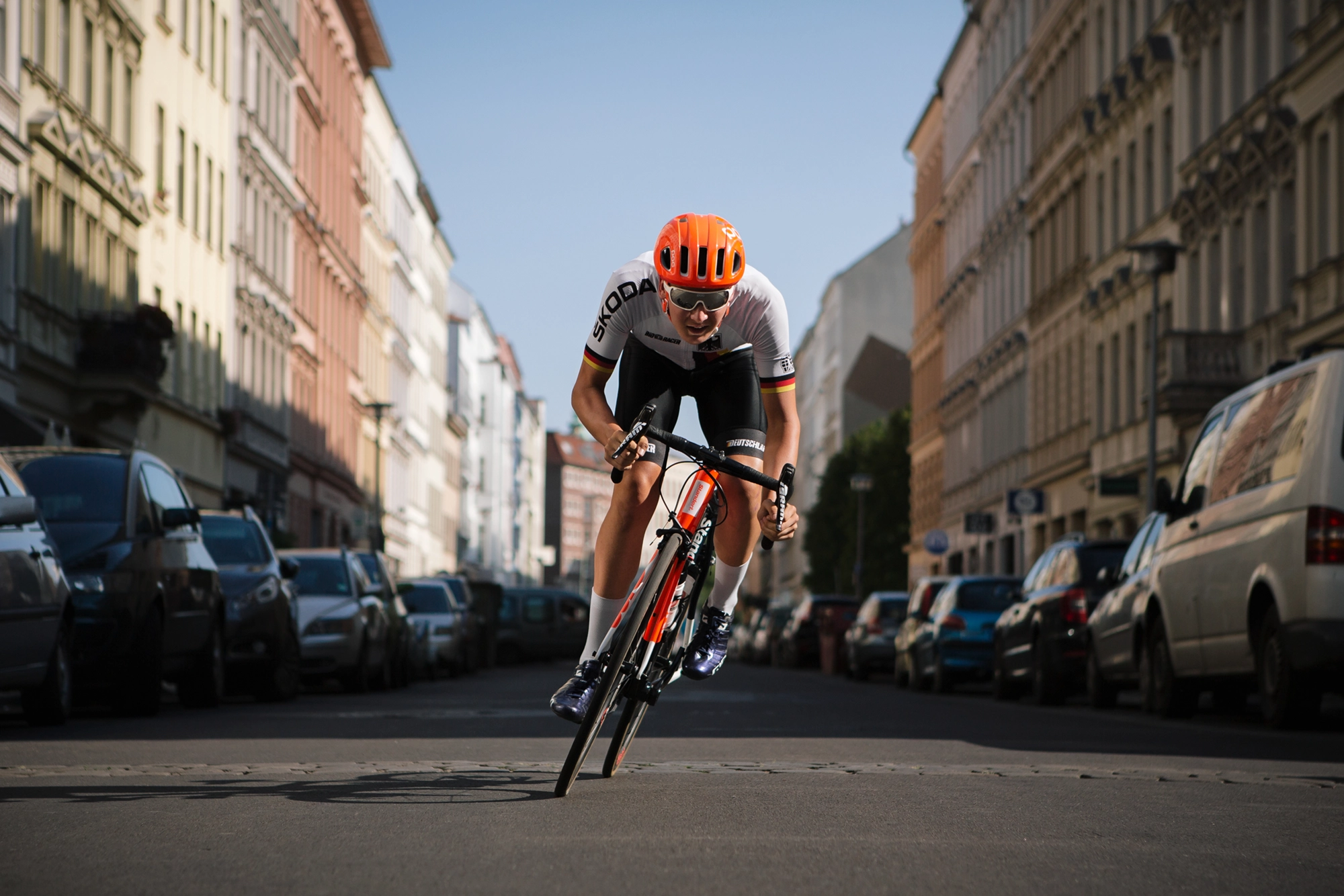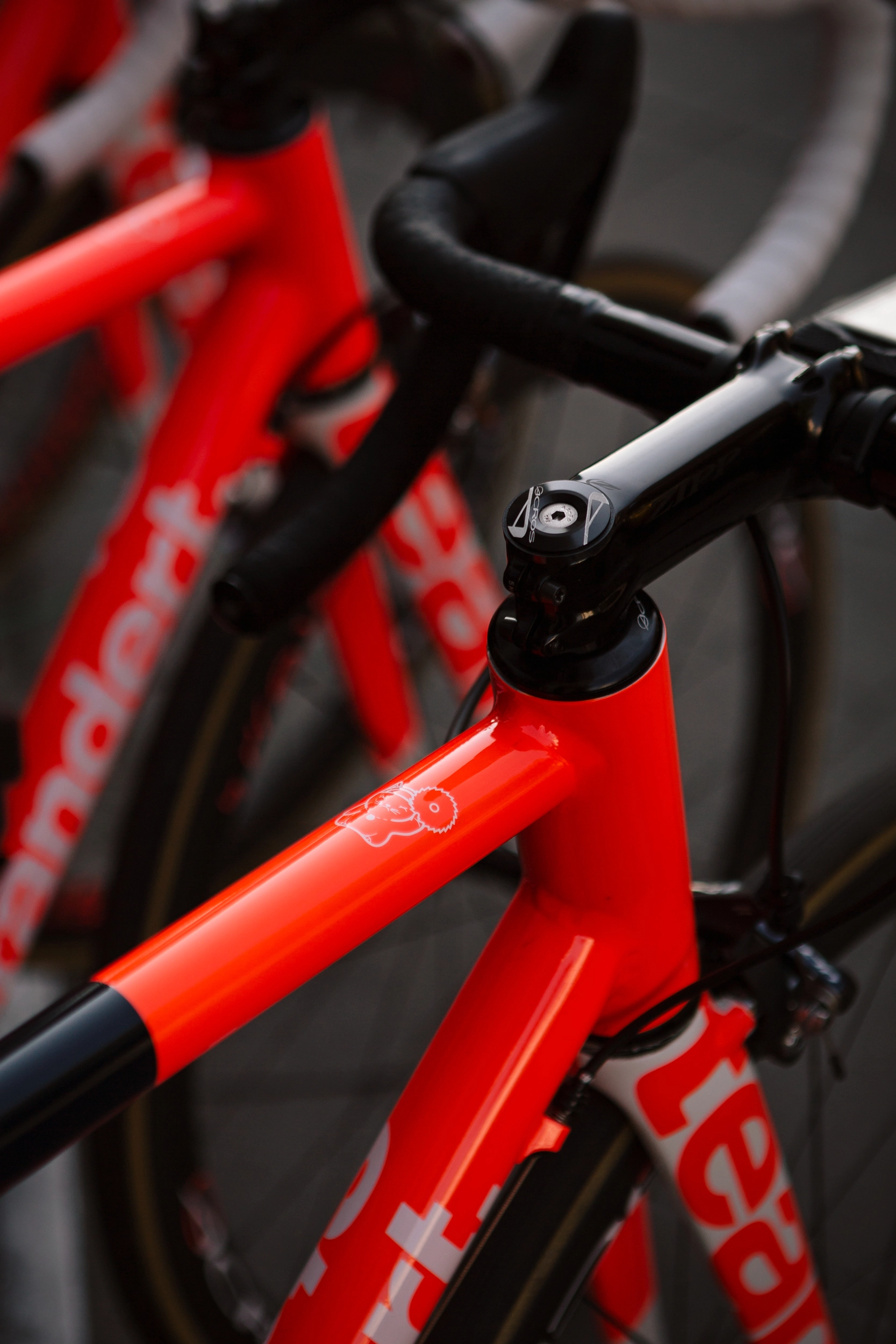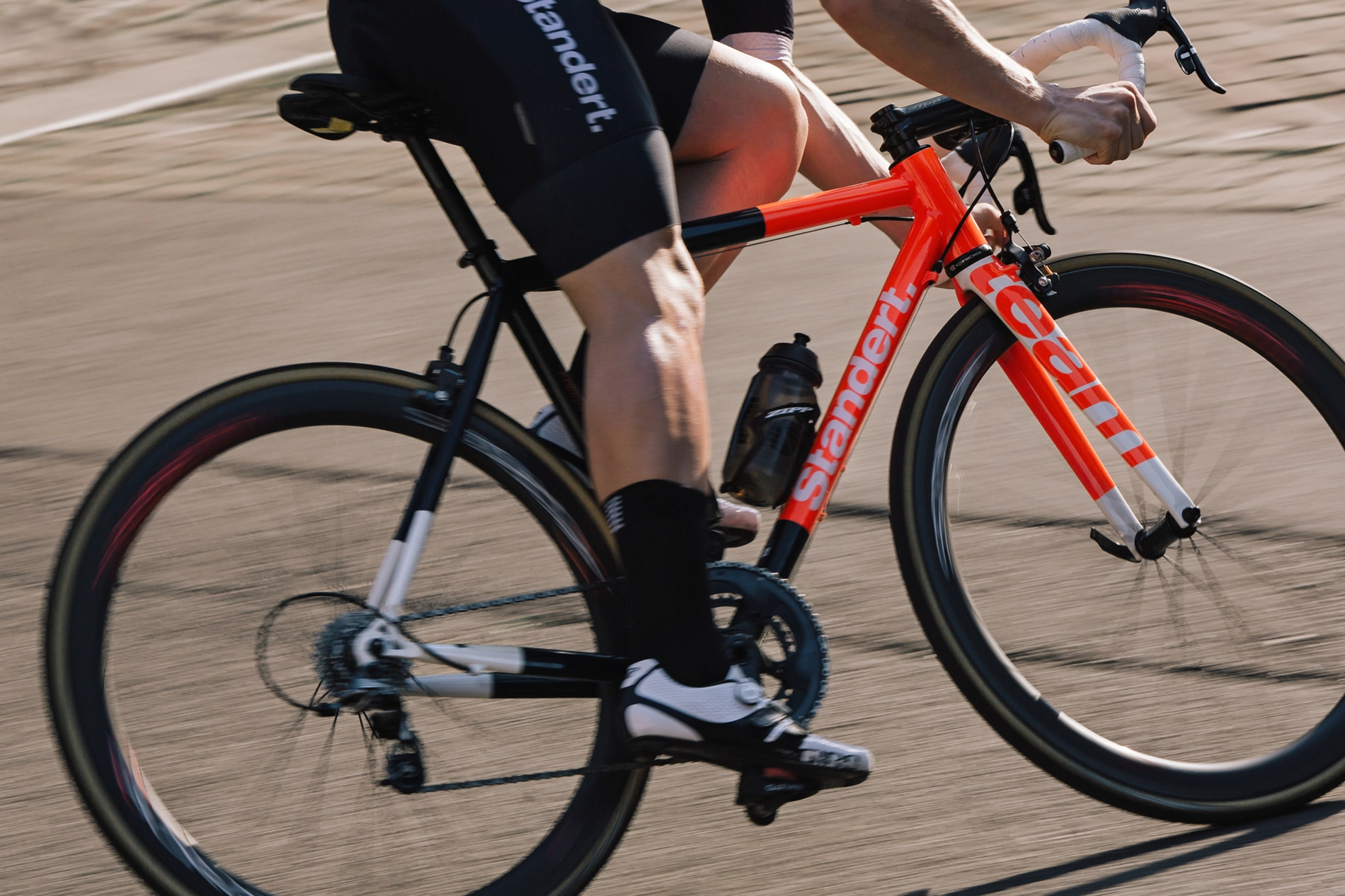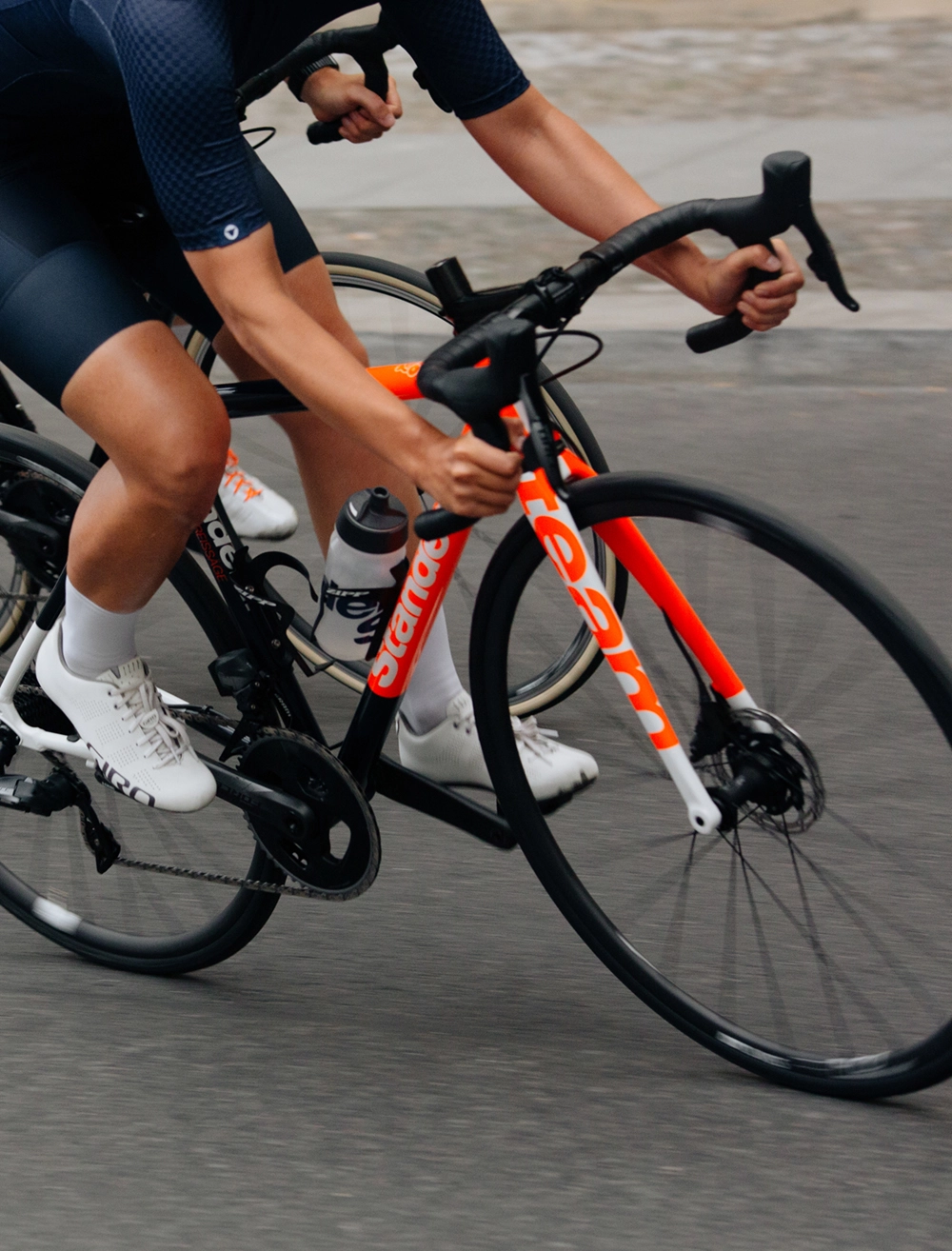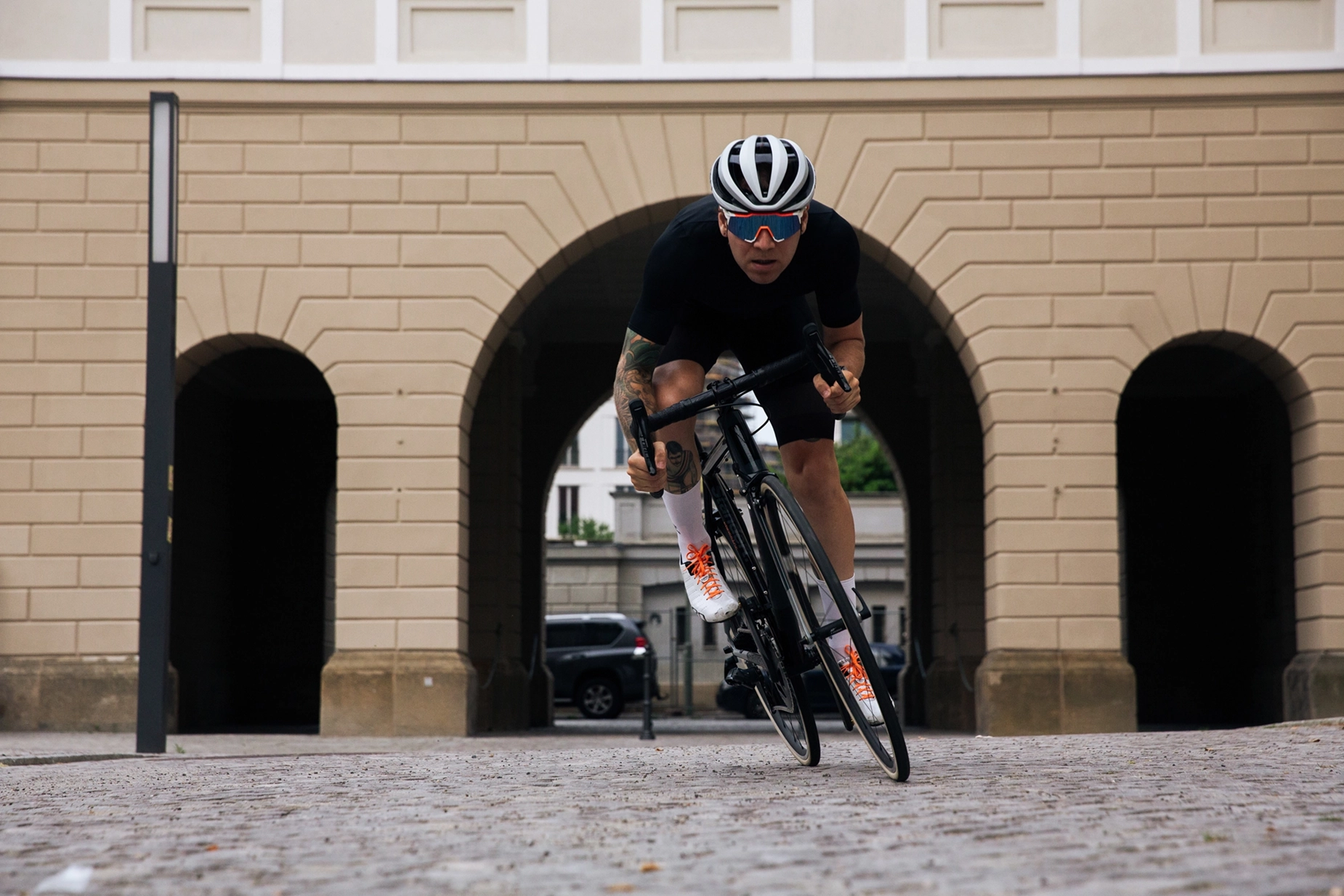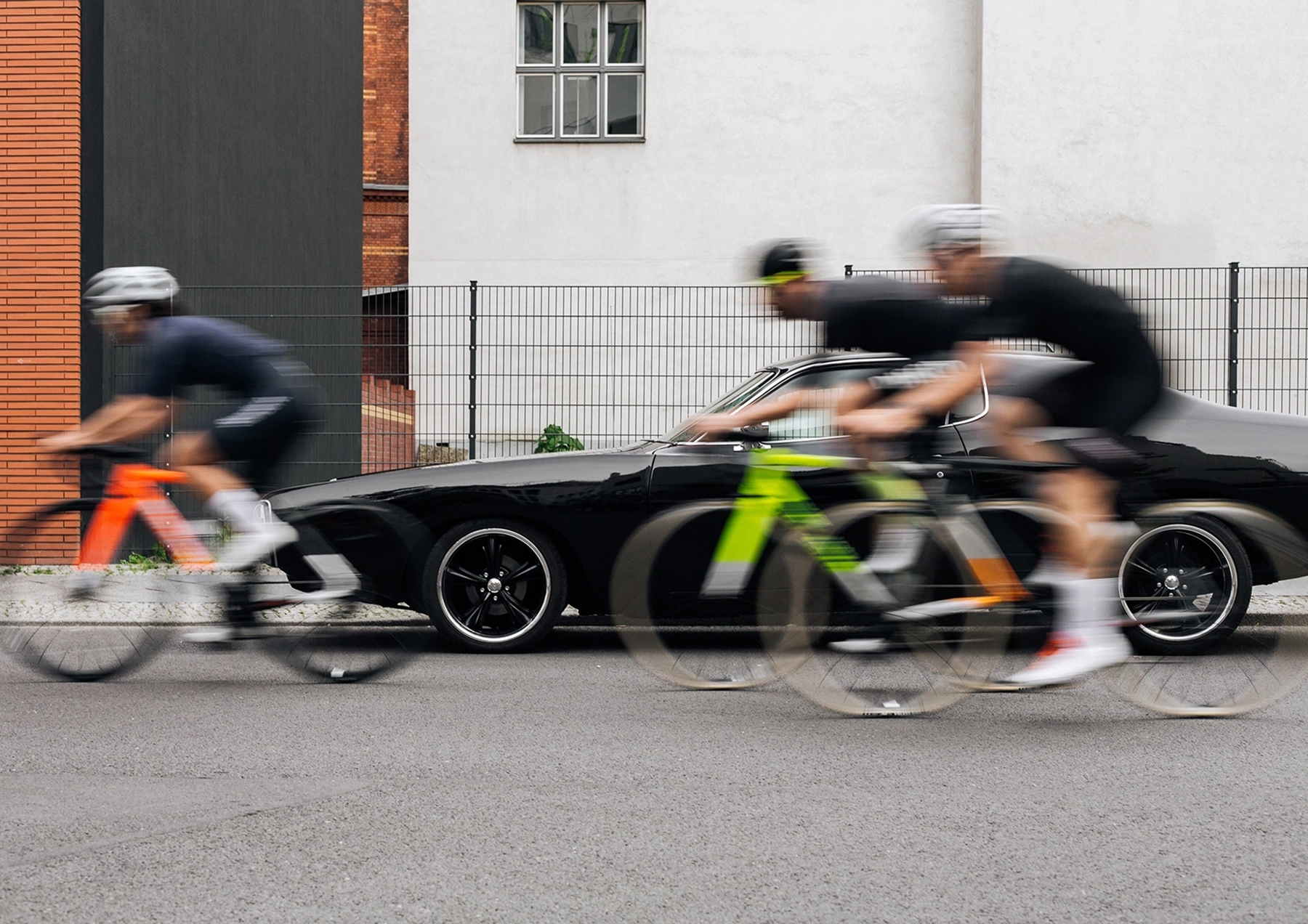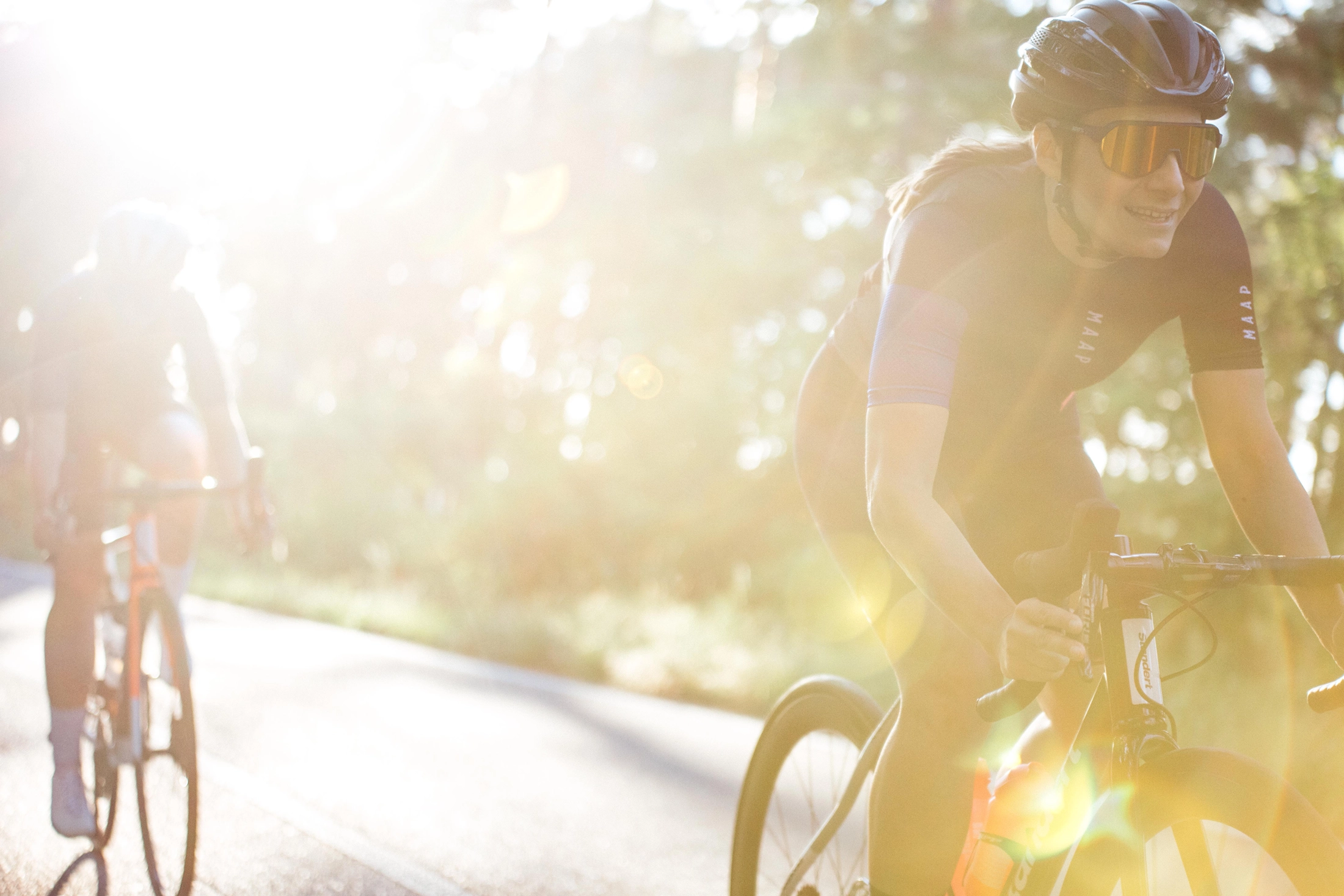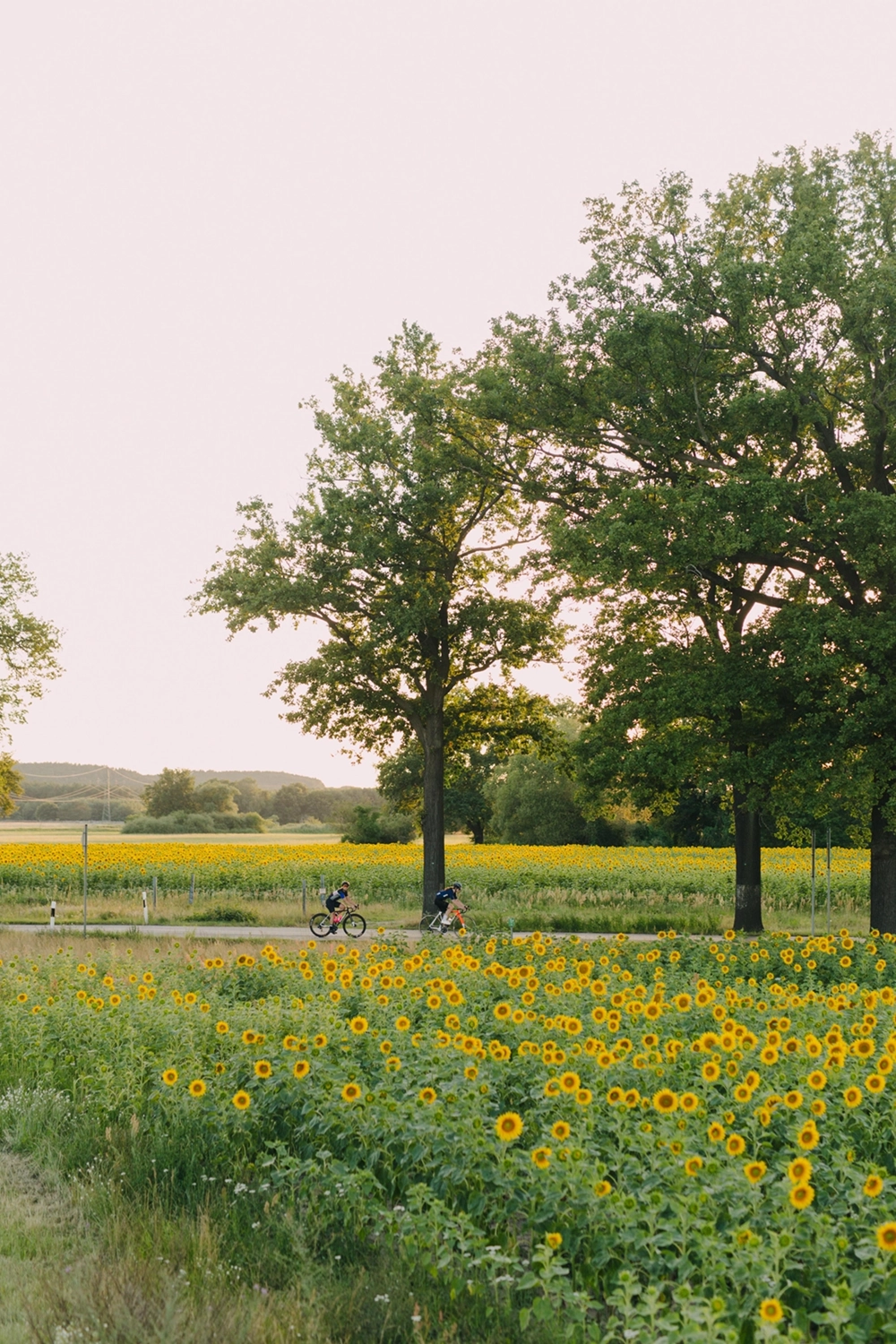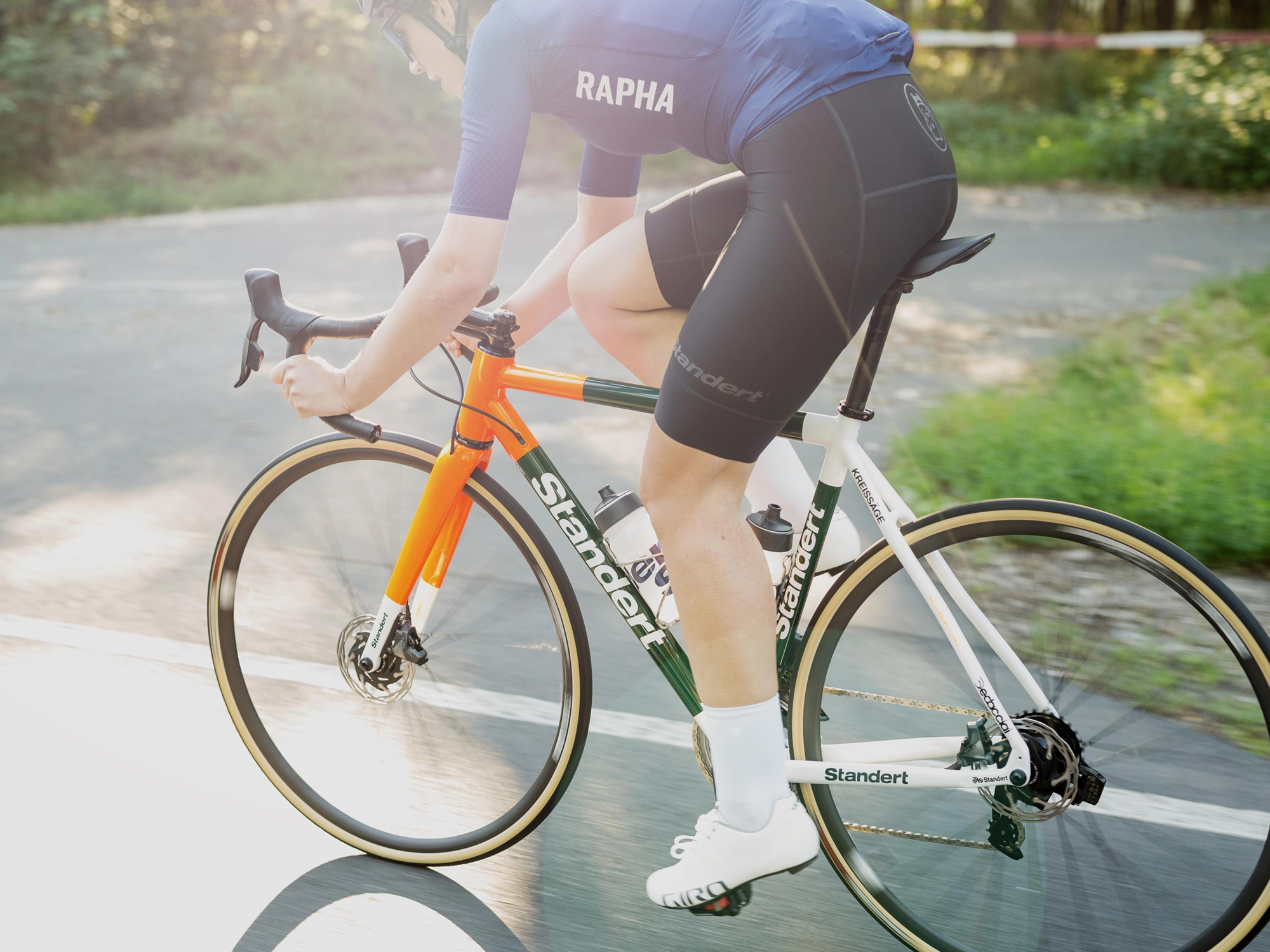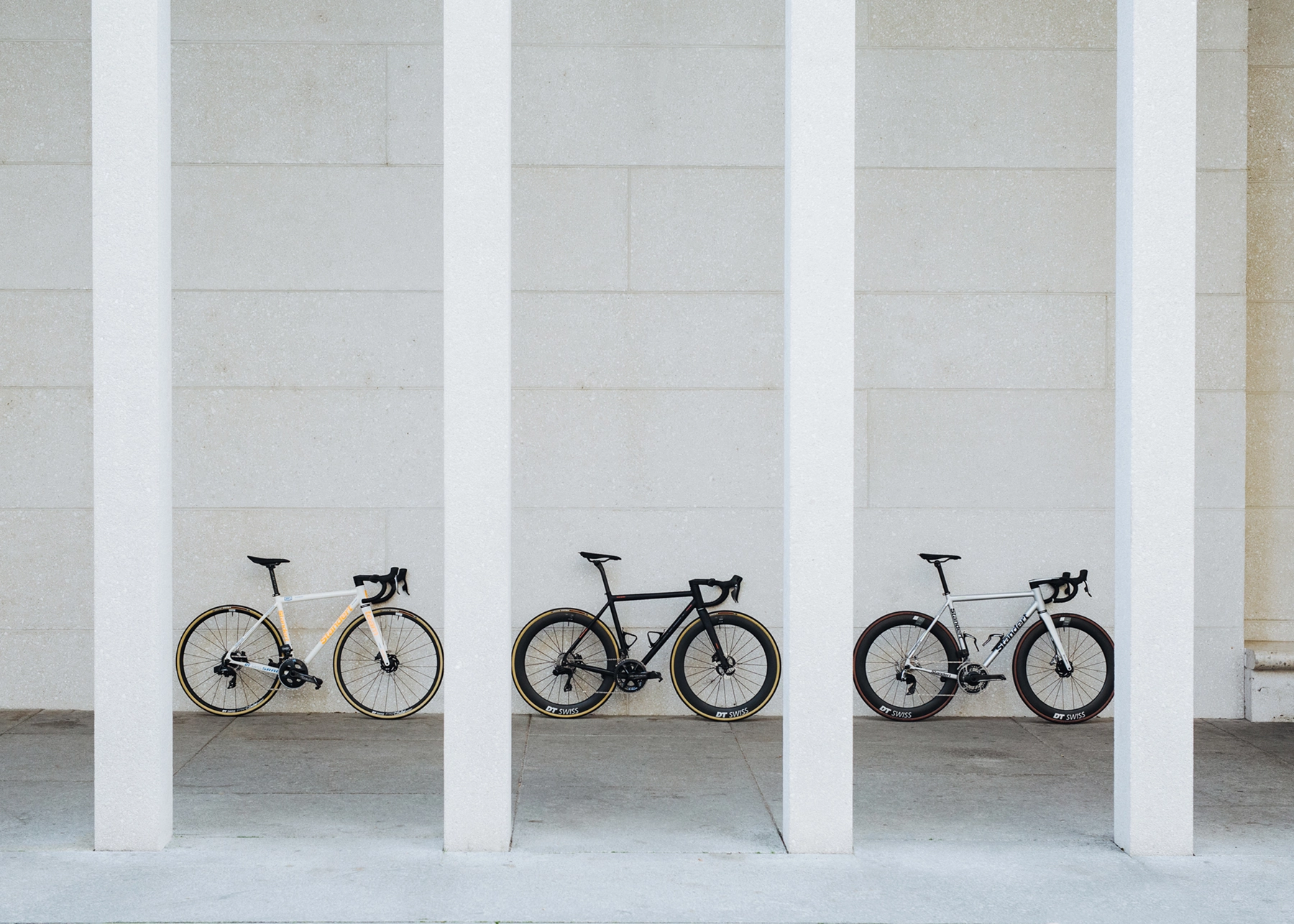 In just three short years, the Kreissäge propelled Standert into the limelight. Thanks in part to the visibility of Team Standert, who competed among the highest levels of Berlin racing (on a fleet of Team Edition Kreissäges), Standert bicycles were in demand more than ever before.
By 2019, Standert was bursting at the seams. Still run by a small team, many of whom had been there since the beginning—and still in the original space on Invalidenstr.—Standert's brand recognition and its bicycles had outpaced the growth and maturity of the company behind it. A decision had to be made.
Anna remembers the fateful day in 2019 when, as the crew hurriedly prepared for a big launch event that evening, she slammed down a broom in frustration and turned to her megalomaniac husband. "What is it you want with this company?" she snapped. "Tell me where we're going!"
Without thinking, Max replied, "I want Standert to be known the world over."
"Well, in that case, we have to grow up!" Anna quipped.
Soon after, Standert moved headquarters from the café's cramped basement to a newly erected building on Friedrichstr., with a spacious ground-floor showroom that reflected the ambitions of the up-and-coming brand. The showroom currently functions as a meeting point for the weekly Feierabendrunde rides, as well as the sole location where one can see the full collection of Standert models in person.
"We realized that bicycles were the future," Max and Anna assert. "Popsicles not so much."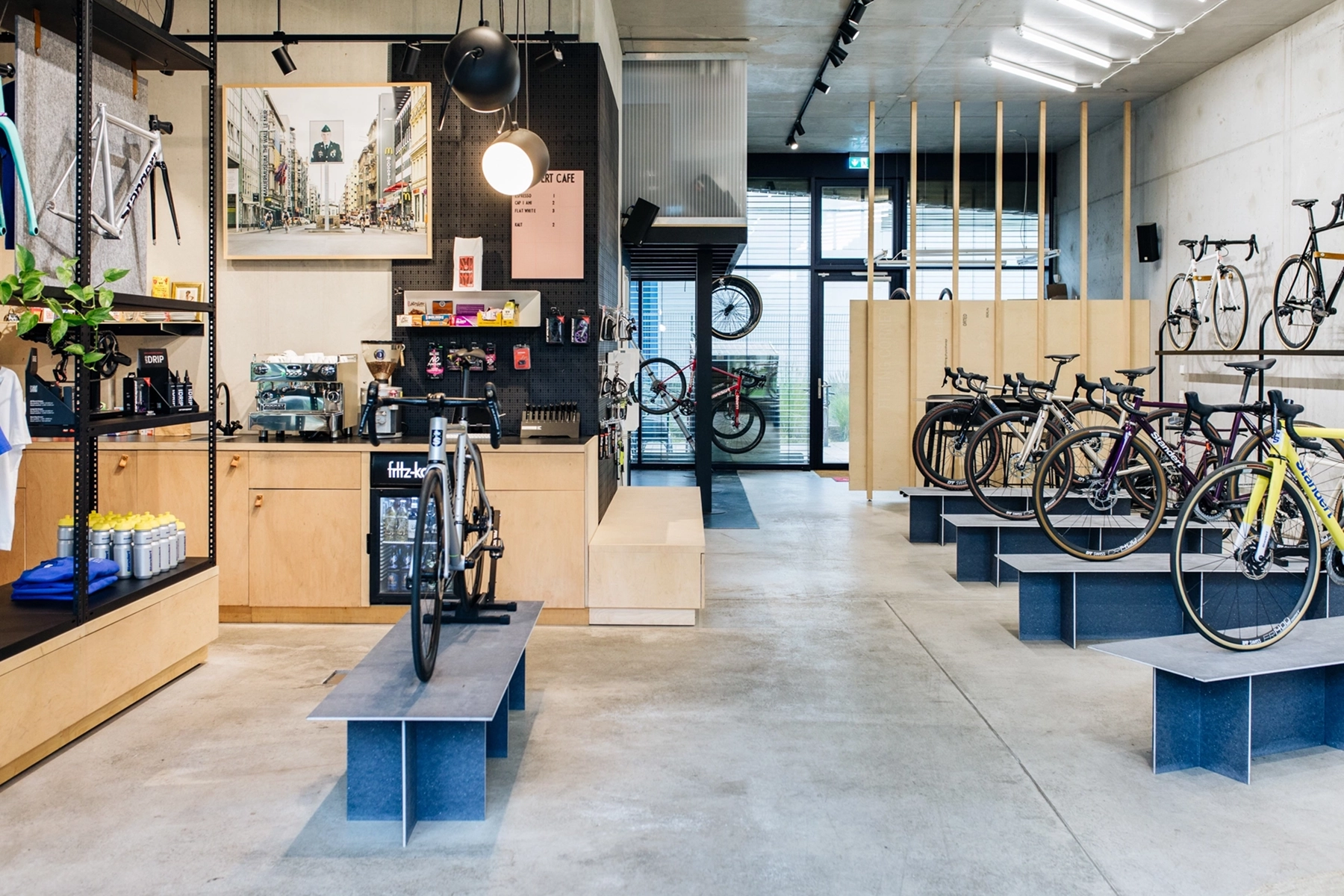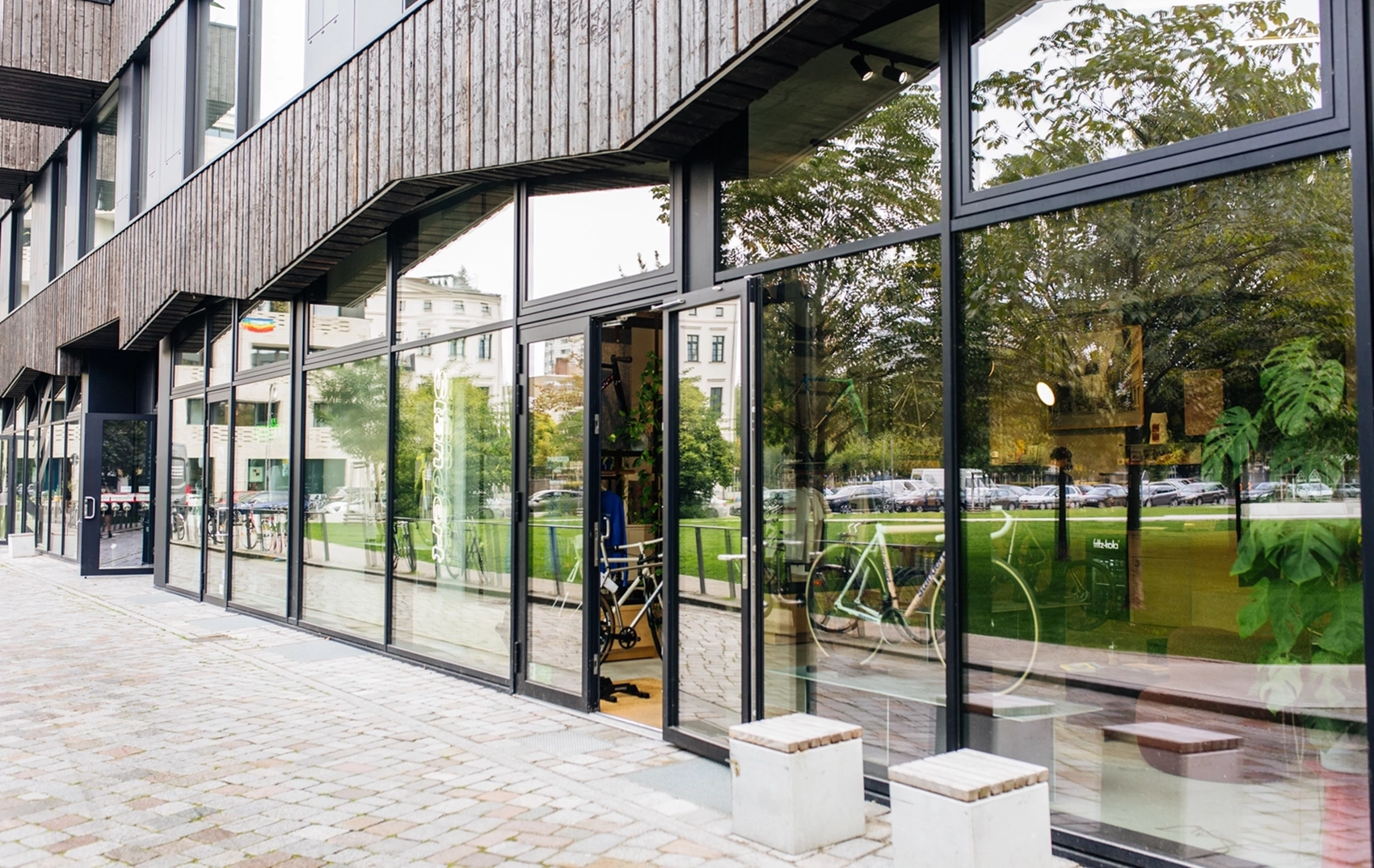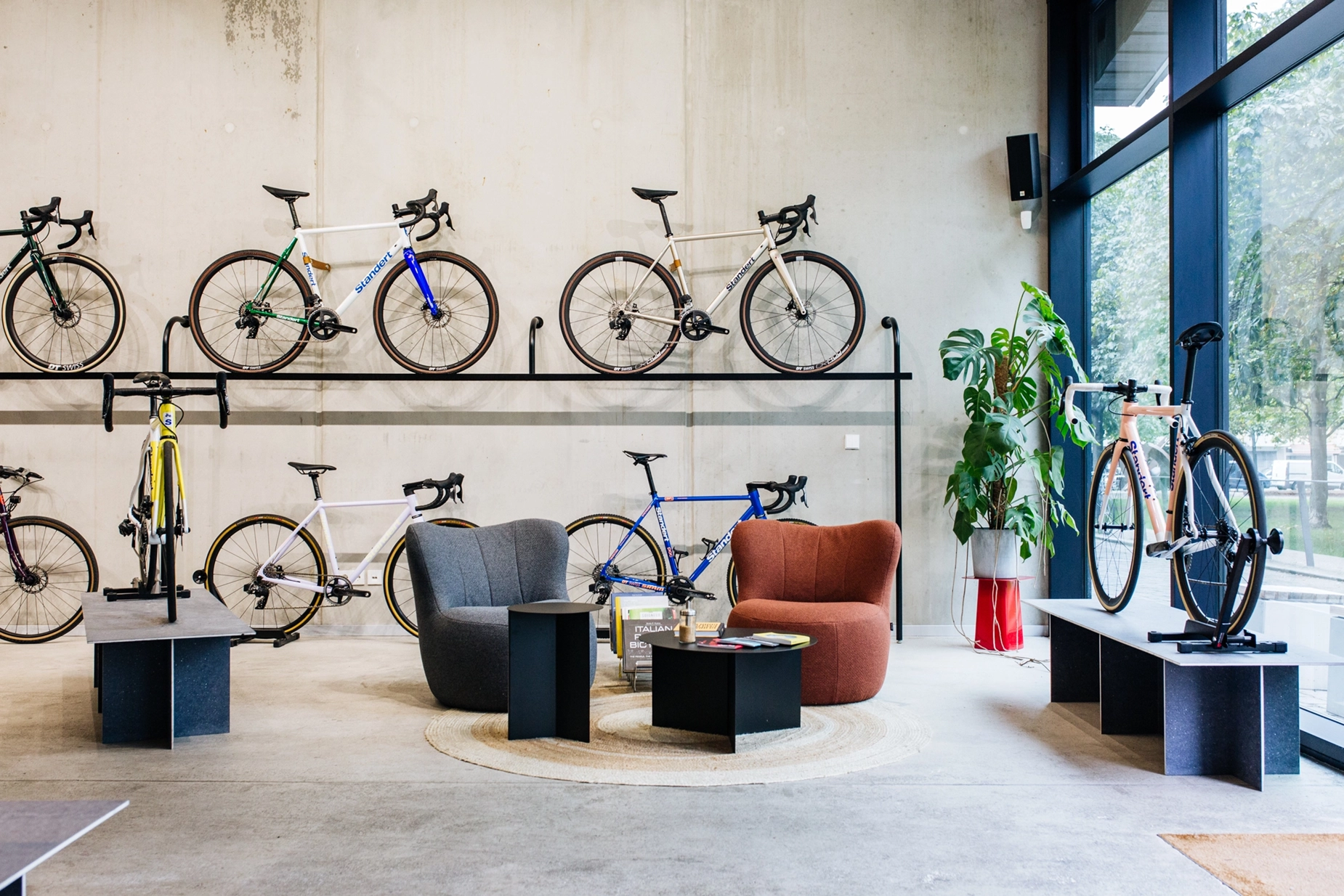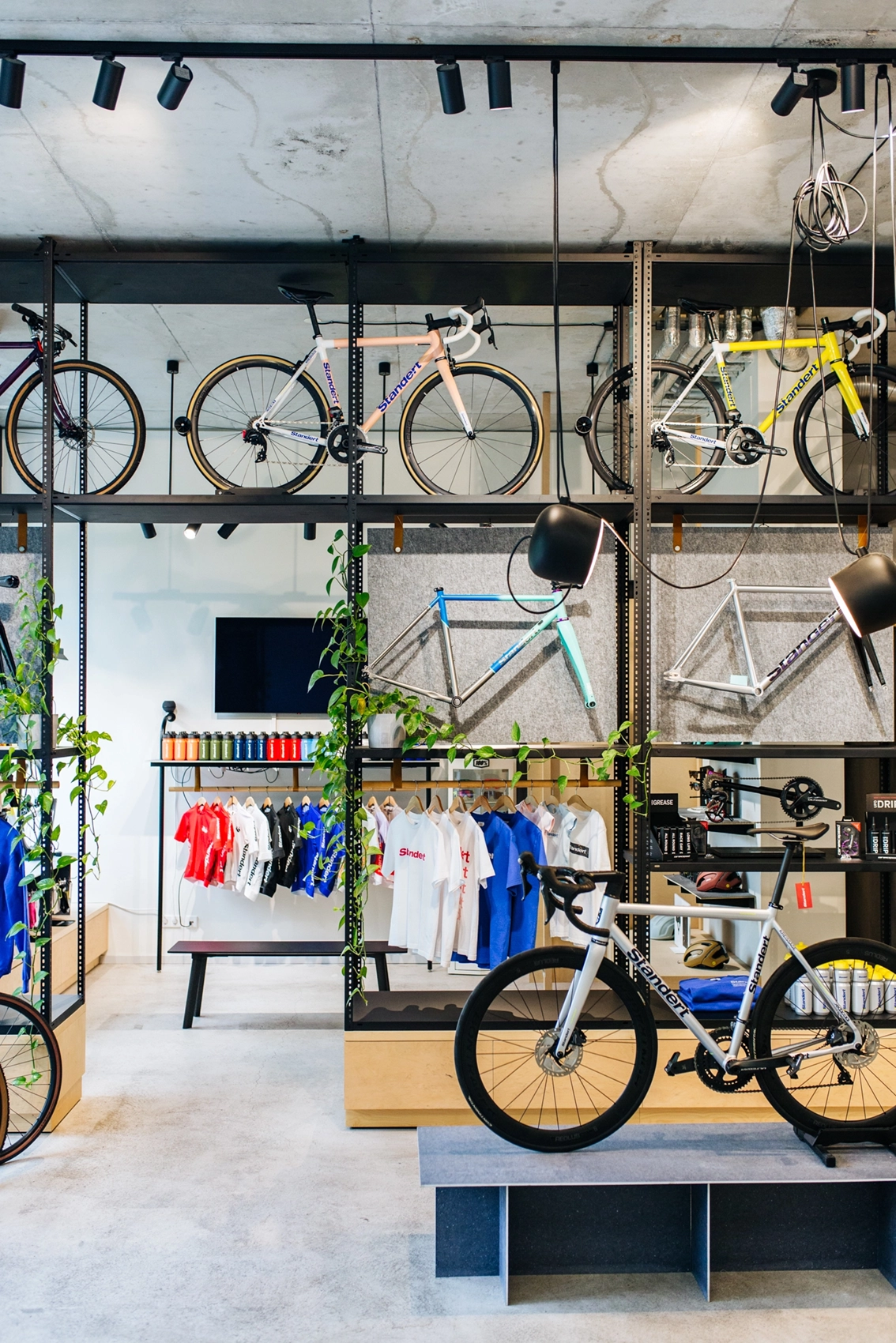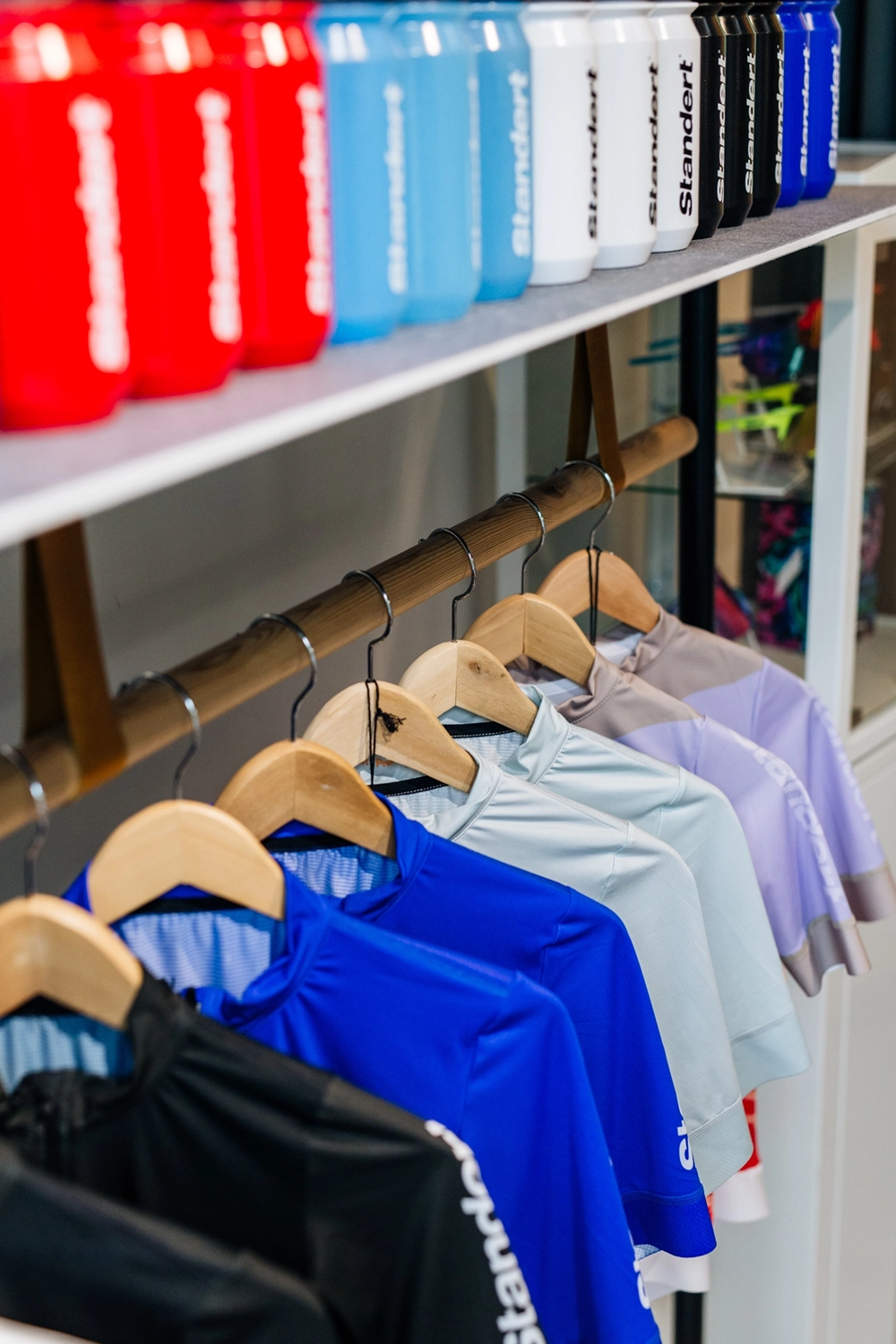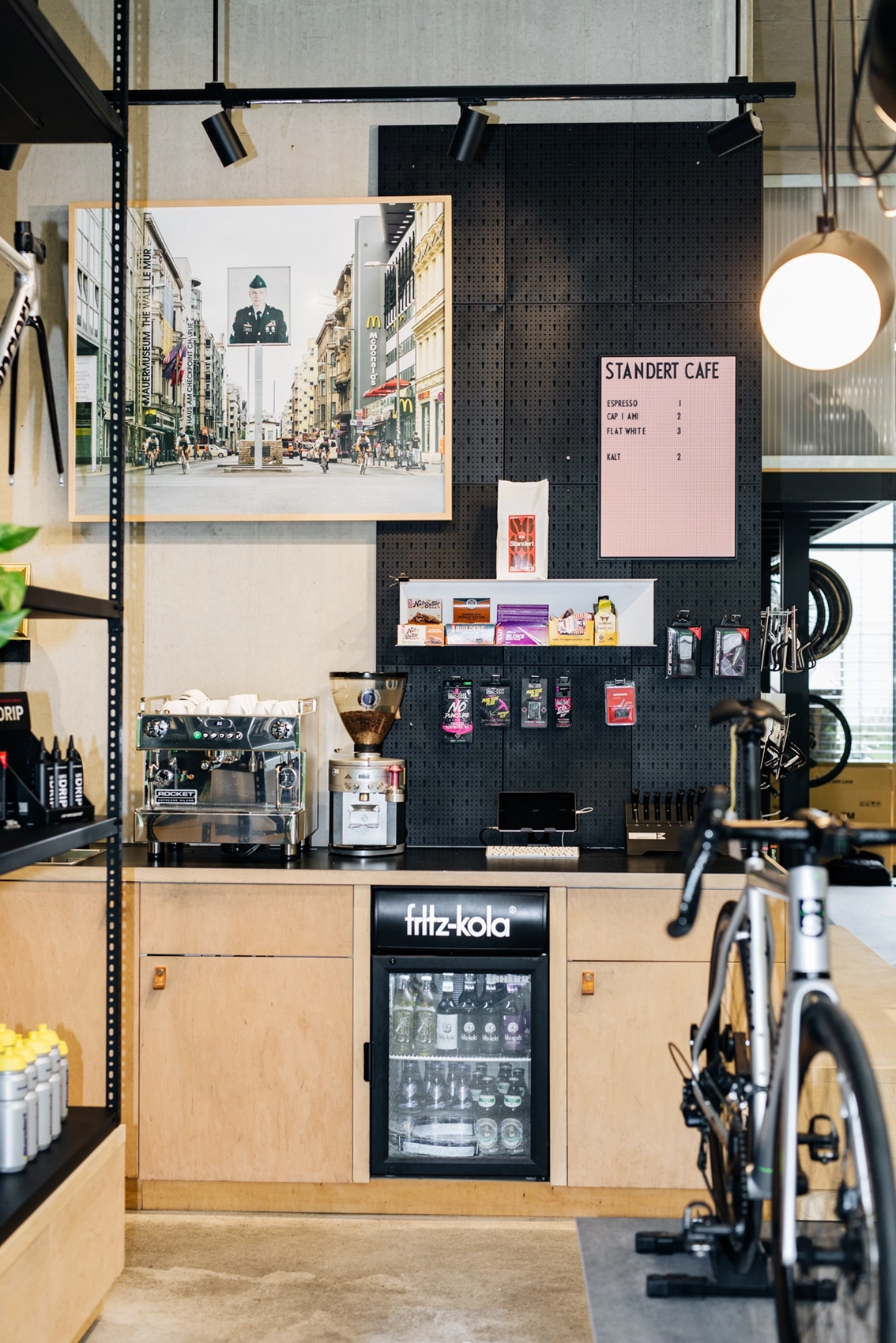 PRODUCT DESIGN WITHOUT COMPROMISE
Standert bicycles adhere to few major tenants, namely: no carbon and no motors. Carbon frame production is both expensive and environmentally costly. And motors? Bikes are just more fun without them. Instead, Max opts for a more sustainable approach without compromising on performance. As he describes, the attitude of "we build bikes that we ourselves wanted to ride" has been there since the beginning.
This authenticity is critical to Standert's identity, and has undoubtedly contributed to the brand's continued success over the last decade.
Even Max's design process feels authentic. He draws inspiration from the everyday: a pair of patterned swim trunks spotted on a Mallorca beach, ski boots seen zipping down the Alps—even toys made their way into the Standert catalog.
"The last team edition frameset, the cream and red colorway, was inspired in part by one of my son's Playmobile motorcycle figures," he remarks.
Standert's approach is refreshing, one that preserves cycling's heritage and aesthetic while meeting the demands of the discerning modern cyclist. For this, Standert relies on Maxe Faschina, Head of Product Development. He and his team have every bike nerd's dream job: testing prototypes and outfitting every Standert model with industry-leading components. When asked about Standert's current catalog, Faschina explains, "Owning one of each model in our collection captures nearly every type of riding available around Berlin."
Barring any major tectonic shift beneath Berlin, it's safe to say that a Standert full-suspension mountain bike model is unlikely in the near future.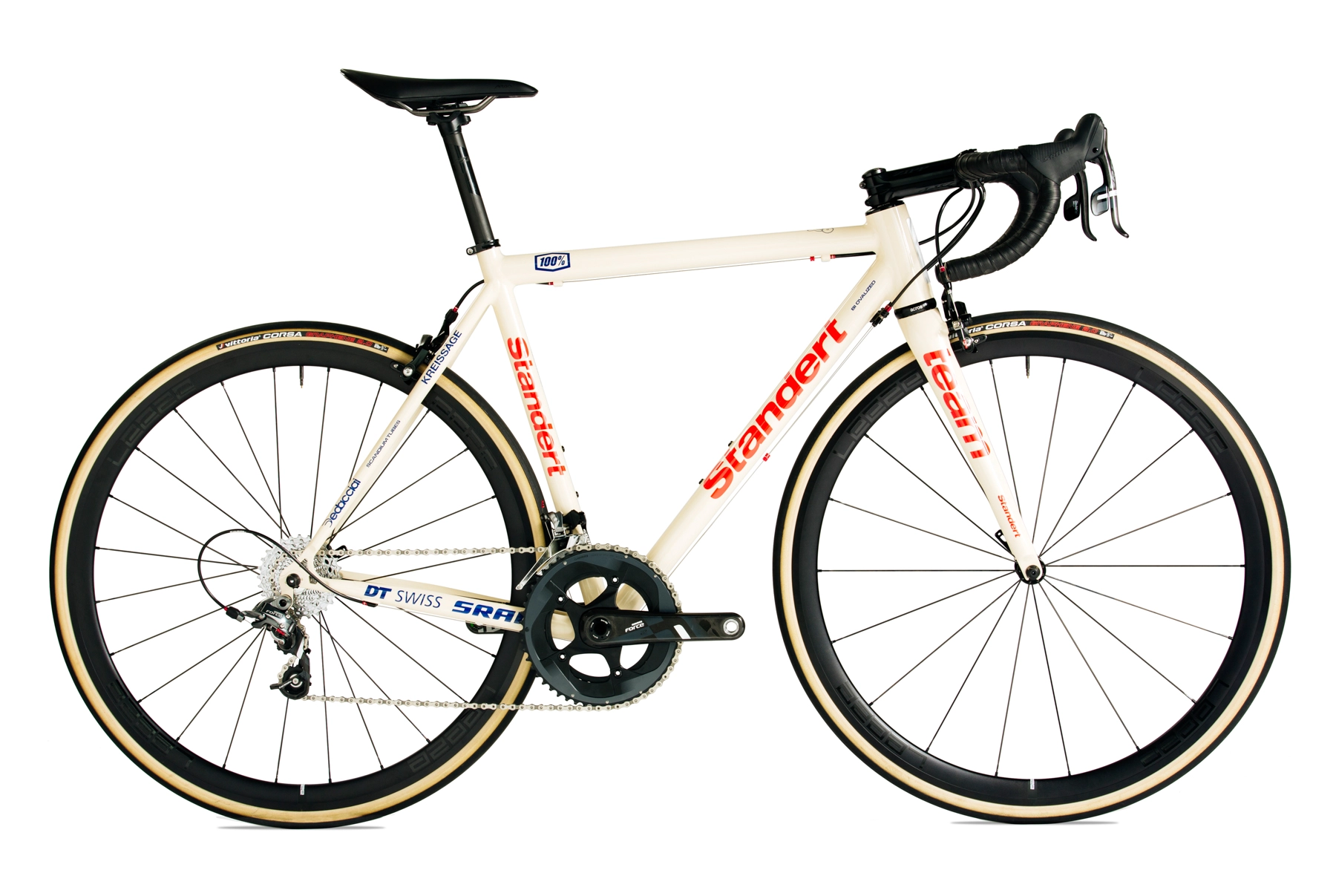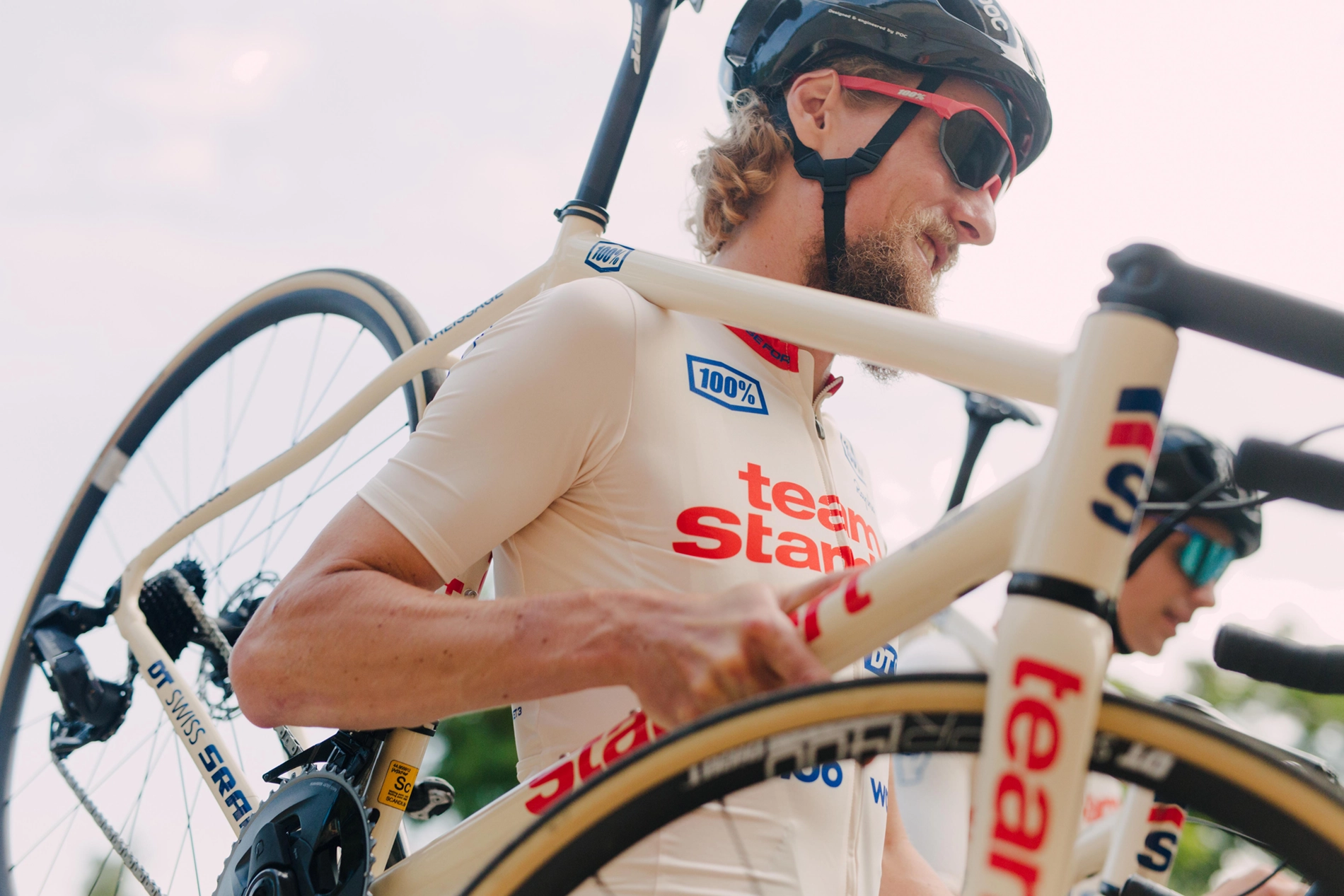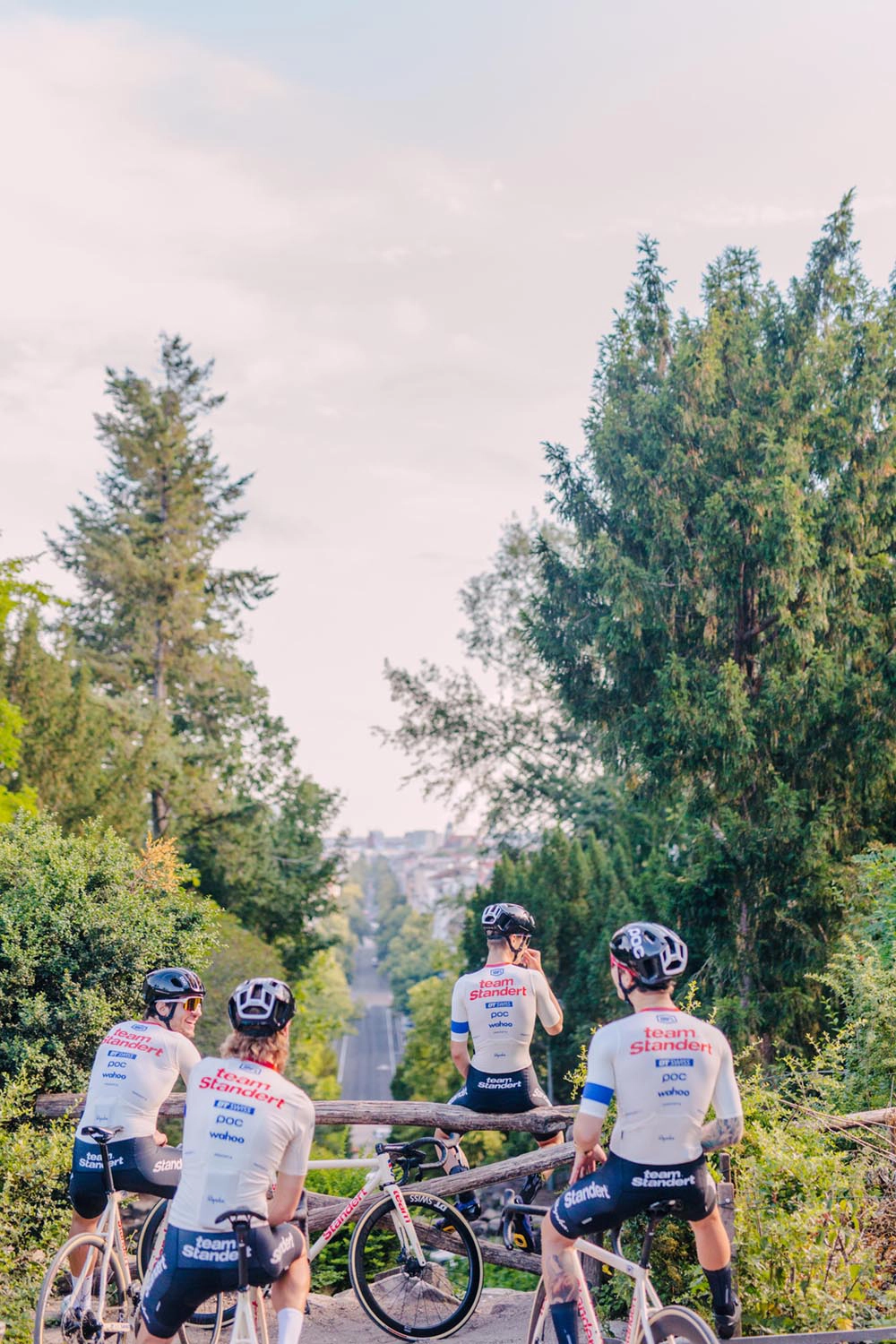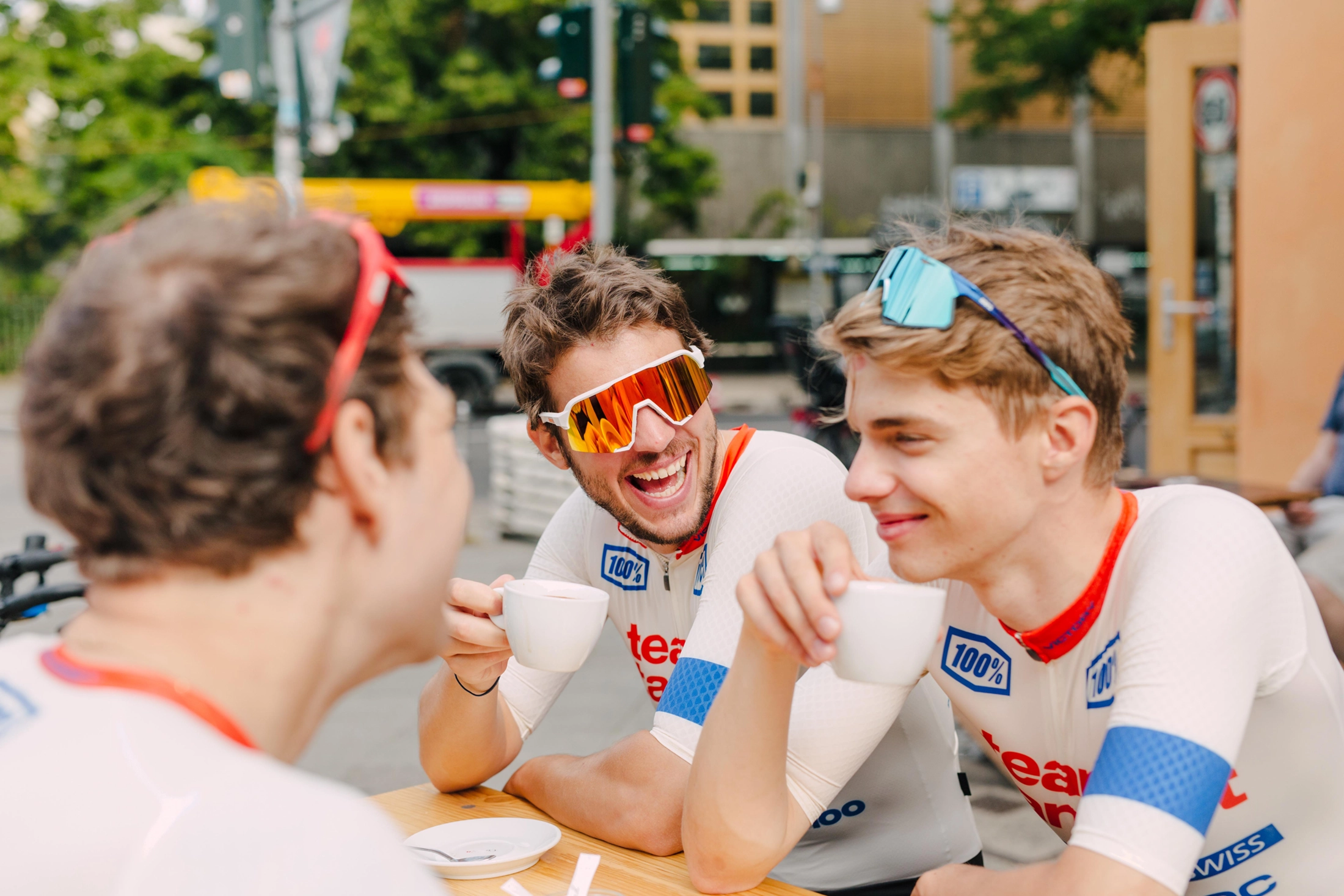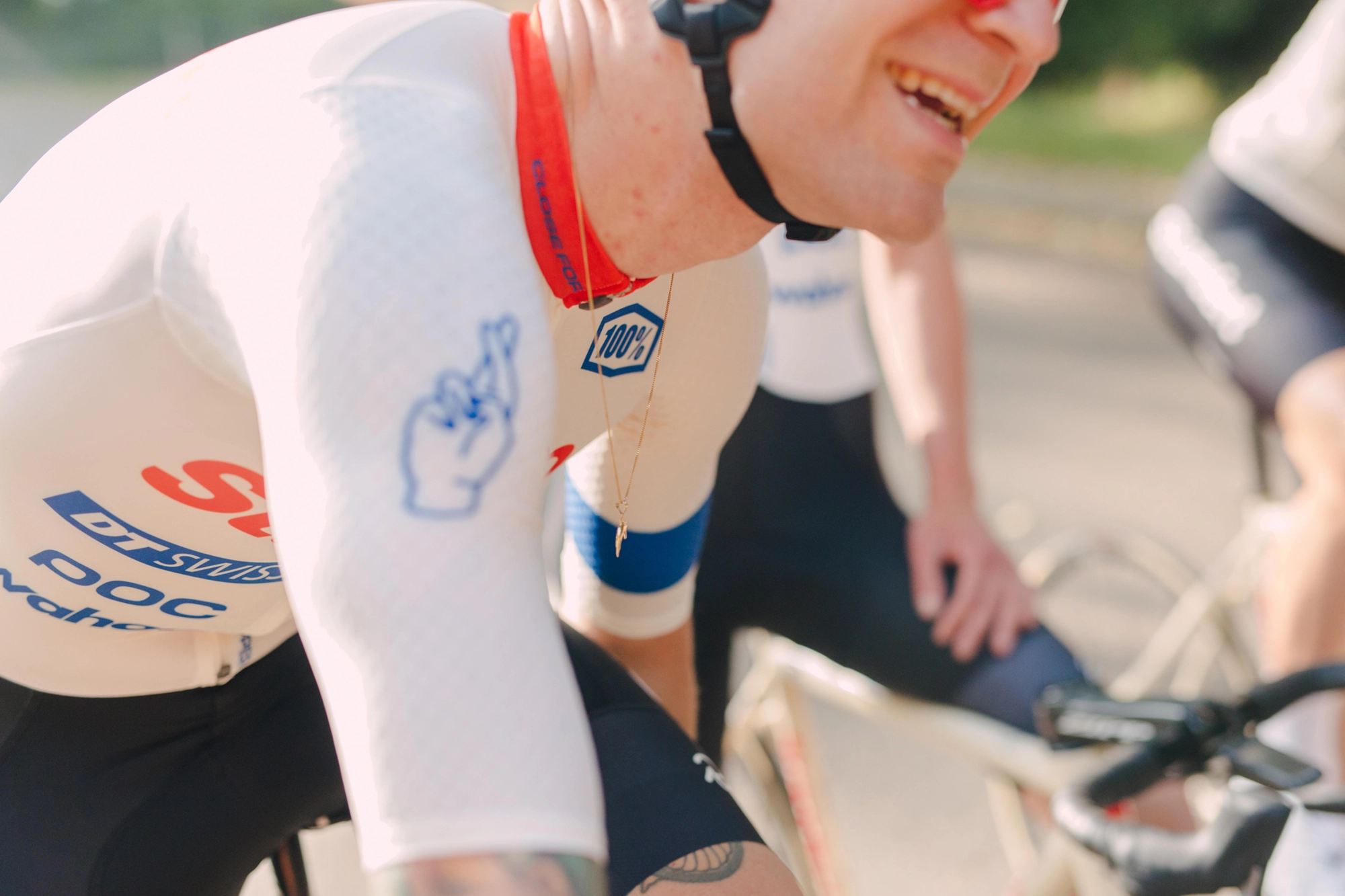 LOOKING AT THE ROAD AHEAD
In 2022, Standert moved offices again, this time to accommodate more warehouse space and team expansion. With such forward momentum, Standert certainly shows no signs of slowing (not that they'd want to). A decade of organic growth and community building proved to be a winning combination for this now globally recognized bike brand. As Standert embarks on yet another new chapter in the company's history, Max and Anna von Senger look to the future with confidence.
Thanks to cycling's renewed popularity, an increasing number of people embrace the cycling lifestyle every day. Brands like Standert now have the responsibility to redefine the standards for the sport, and instill values of openness and authenticity among the communities they create.
"Let's make the bike community a friendly and welcoming one," they request, "In the spirit of what we think is the way forward for cycling."